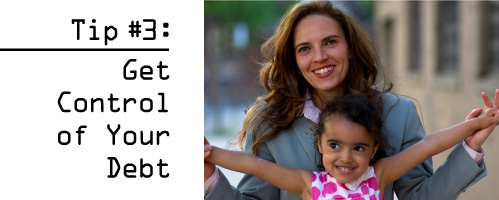 GETTING OUT OF DEBT
Borrowing money and paying by credit card can be so easy that you can forget you've taken on debts you must pay back with interest. When debt increases, so do your monthly repayments. There are ways you can handle debt and eventually become debt free. 


Tips to reducing your debt


Debt stress? Visit a Financial Empowerment Center to get free one-on-one counseling in English or Spanish. Also learn what you need to look for in a credit counselor


Is bankruptcy right for you?
DEALING WITH DEBT COLLECTORS
Any business collecting debts from New York City residents must be licensed by the Department of Consumer Affairs (DCA). New York City law provides the strongest anti-harassment protection in the country. Know your rights and collectors' responsibilities.


Quick tips on handling a debt collection notice


Download DCA's Debt Collection Guide in English  Español   Kreyòl Ayisyen (in PDF)


Information for Consumers: Money Judgments and Frozen Bank Accounts


File a complaint against a debt collector
BEWARE OF DEBT SETTLEMENT SERVICES
Over your head in debt? Struggling to pay your bills? Beware of services that claim they can eliminate or "settle" your debts. In the majority of cases, debt settlement does not work and can cost you thousands of dollars in fees, leaving you even further in debt.


Get tips to protect your money in  English  Español   中文 (in PDF)


File a complaint with the New York State Banking Department