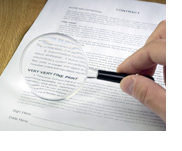 When considering taking out a loan, it is always a good idea to take the loan agreement home with you to review all of the fine print. If you have questions, ask the lender before signing the dotted line. Below are some things you should watch out for in ads promoting loan agreements.





Introductory offers


Ad

: "0% Introductory APR for purchases."
Fine Print: APR (0.0000% for purchases for the first 6 months of card membership. Then, a variable APR of 12.24%, 13.24%, 16.24% or 18.24%, depending on our review of your application and credit history).
What the Fine Print Means: Many lenders may advertise a great offer when you apply for a loan, such as 0% APR (Annual Percentage Rate), but it is often for a limited amount of time (first 6 months).


Tip

: Read carefully to learn how long the offer will last and what happens after its expiration date.


Offers for select groups of people


Ad

: "Get a car with 3.9% APR Financing now through 08/01/2008."
Fine Print: Qualified customers only. Available at participating locations. Applies only to specific models and only for specific model years. The 3.9% APR is subject to credit approval. Visit participating locations for details and availability.
What the Fine Print Means: Dealerships may try to get you to sign up for their loan by advertising an extremely low interest rate. What they usually don't put in big, block letters is that only a few people qualify for the low interest rate. In this case, the fine print indicates that the offer is for "qualified customers only."


Tip

: When applying for a car loan, make sure you are eligible for the low rate being advertised.


Attached Programs


Ad

: "Our loan offers the lowest rate in the market."
Fine Print: To qualify for the lowest rate in the market, customers must meet loan amount requirements, use XYZ Deduct (an automated monthly debit from an XYZ deposit account) for repayment, have a good credit history, and meet certain loan-to-value conditions.
What the Fine Print Means: There are requirements that must be met before you can take advantage of the offer. In this case, one of the requirements is that you enroll in the XYZ program for automatic debits, which could mean extra costs.


Tip

: Read carefully to understand the requirements for an offer, including additional items you must purchase to get the offer.


Extra Fees


Ad

: "We save you money with our low-fee guarantee. We do not charge many of the extra fees that other lenders may charge."
Fine Print: There are still fees associated with your loan application and loan closing that you may be required to pay, including, but not limited to, a nonrefundable $395 application fee, taxes, government and third party fees.
What the Fine Print Means: The lender offers a low-fee guarantee for fees most lenders may charge, but that doesn't mean you don't pay anything. There are other fees that may apply and the lender can even charge fees that other lenders may not charge if they are included in the loan agreement.


Tip

: Know all of the fees for a loan so you won't be hit with a large bill later.
| | |
| --- | --- |
| | |