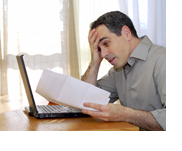 Checking your credit report every year can help you prevent identity theft. You're entitled to one free credit report each year from each of the nationwide consumer credit reporting companies (Equifax, Experian, Transunion), so check yours today if you haven't seen your report in a long time.
If you find errors on the report, you can have them removed so they won't affect your credit score* or
your ability to get a loan. Follow the five easy
steps below to correct credit report errors.
Make a copy of your credit report and highlight every item you believe is incorrect.


Write a letter to the credit reporting agency (e.g., Equifax, Experian, Transunion) about the information you believe is wrong and include copies of supporting documents as proof. For example, if you paid back a $5,000 loan to John Smith Company, but your credit report says you didn't, send a copy of the letter you received from John Smith Company confirming that the loan was repaid in full.


Send a similar letter to the creditor you believe reported the incorrect information.


Send all materials by certified mail, return receipt requested, so you have proof the information was received.


The credit reporting agency will conduct an investigation, contacting the appropriate creditors to verify the accuracy of the information. If the creditor cannot verify that the reported information is correct, it must be removed from your credit report. There are two possible outcomes of the investigation:
If the investigation proves an error was made, you have the right to receive a free copy of the corrected report and ask that the corrected version of your credit report be sent to everyone who received it within the past six months.
If the issue remains unsettled even after the investigation, you can ask that a 100-word statement of the dispute be included in your file and in future reports. The credit-reporting agency must include this statement in your report each time it sends it out.
*Keep in mind that when negative information in your report is accurate, it cannot be removed. Most negative information generally stays on your report for seven years while bankruptcy information can remain on the report for ten years.
If you need help correcting errors, try speaking with a credit counselor. Avoid credit repair scams.