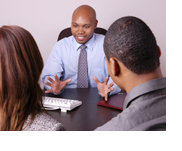 Not every credit counselor is the same, which is why you should "shop around" for the credit counselor who best fits your needs. Stay away from credit repair scams and be sure to review the "credit counselor basics" below, which describe what to look for in a credit counselor.
A credit counselor will explain the different types of programs and services that can assist you with your money problems. The counselor should alert you to any fees involved and answer any questions you have.


Credit counselors are available from both private and nonprofit organizations. Many nonprofit organizations offer credit counseling services at little or no cost. To find credit counseling services in your neighborhood, search the Financial Education Network online directory



Counselors should have training and/or certification in areas of consumer credit, money and debt management, and budgeting.
Note: Businesses that advertise credit counseling services must inform you if they are not federally approved to provide bankruptcy counseling.
Generally, in your first session, the credit counselor will talk with you about your current finances, helping to calculate what your budget looks like. By the end of the session, the counselor will help you develop a personal budget plan and offer recommendations for additional counseling and resources that may help.