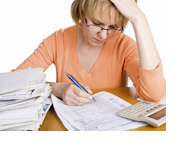 Many companies send offers to help you solve all of your debt problems quickly for a low fee.
Sounds like a good offer, right?
WRONG. Unfortunately, if an offer seems too good to be true, it usually is. Many of the companies promising to help you with your debt problems will actually cause more grief in the long run. Learn how to spot the signs of a scam.
Signs a "debt help" company is trying to pull a scam:
It promises to remove all of your debt.
FACT: Debt does not disappear unless you pay it off. Any company that says it can get rid of your debt is trying to rip you off.


It encourages you to take out a new loan without reviewing your financial situation.
Though many companies offer legitimate debt consolidation plans, a company that does not fully review your financial situation but tells you immediately to take out a loan is most likely trying to scam you. Likely, they will charge you their loan fees and interest on top of your current debts.


It requests substantial monthly service fees.
If you're already struggling with debt payments, you should not add to your expenses by paying someone to manage debt that you can work out yourself or in consultation with a free or low-cost credit counselor


It tells you to stop making payments or contact your lenders.
FACT: Often, lenders are willing to work out a repayment plan with you. If the company tells you not to contact lenders, it might be withholding valuable information.


It asks you to sign blank forms or sign over your property's ownership.
NEVER sign blank paperwork.

NEVER sign agreements that you don't understand.

Unfortunately, there have been cases where homeowners think they are signing documents to help repay their debt but are actually signing over the deed to their home.

Remember: If the company is unwilling to explain the paperwork or answer your questions, do not do business with them.
| | |
| --- | --- |
| | |