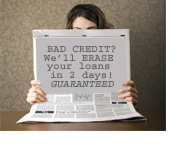 There are many companies out there that claim they can get you a high credit score or repair your credit report quickly for a fee. Unfortunately, many of these companies are scam artists trying to steal your money. Find out how to spot a scam so you can protect your money and your identity.
Signs that a credit repair company is trying to pull a scam:
It promises to remove negative information from your credit report.
FACT: No one can legally remove negative information from a credit report that is accurate and must remain on your report for a set amount of years; most information stays on your report for seven years while bankruptcy information can remain for ten years. You can remove credit report errors by following certain steps yourself for FREE.


It requests an upfront fee before any type of credit repair is performed.
A legitimate company will not demand payment before the service is provided. Remember that improving your credit can be done, but it takes time. Learn tips to improve your credit score


It offers to create a new credit report for you with different identification (such as another Social Security number or business tax ID number).
FACT: This is illegal and you should report the fraud to the Federal Trade Commission (FTC) immediately.


It asks you to sign blank forms and provide personal information so the company can act on your behalf to help with credit problems.
NEVER sign blank paperwork.

NEVER give out personal information without knowing the reason and with whom you are dealing. Once someone gets your personal information, you may be in danger of identity theft


It tells you it can boost your credit score by piggybacking on someone else's credit.
Some credit repair companies offer consumers a "piggybacking" opportunity. Consumer A (good credit) adds Consumer B (bad credit) as an authorized user on Consumer A's credit card account for a fee. Consumer A maintains good credit, which is reflected in Consumer A's and Consumer B's credit reports. (Consumer B is piggybacking on Consumer A's good credit history.) This is a dangerous and costly process as personal information is exchanged. Credit reporting agencies are aware of these piggyback schemes and are no longer attributing Consumer A's good credit to Consumer B's credit report and score.


It sent you an offer through e-mail that you did not request.
Many scam artists send out "official looking" e-mails in hopes that you will respond. If you did not request information to be sent, do not deal with the company.
There are no overnight solutions to fix your credit history. Consider speaking with a credit counselor to find ways to repair your credit if you are having trouble managing your debt.