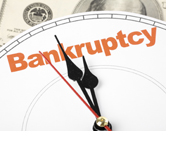 Personal bankruptcy is a legal procedure in which a person will receive a discharge - a court order that says they don't have to repay certain debts. Though it may seem like an easy way out of your debt problems, bankruptcy should always be a last resort.

Before considering bankruptcy, try to find ways to reduce debt and speak with a credit counselor



What you need to know about bankruptcy:

Bankruptcy can lead to serious long-term problems, such as lowering your credit score and appearing on your credit report for up to ten years. Bankruptcy usually does not wipe out the money owed for child support, alimony, fines, taxes, and some student loan obligations. In addition, bankruptcy does not usually permit you to keep property against which a creditor has an unpaid mortgage or lien (legal claim on the property you used to secure a loan).

There are two primary types of bankruptcies for consumers:
Chapter 7 bankruptcy removes all allowable debts, such as certain credit card debt and unsecured loans (loans that do not require you to give anything of value to the lender in order to borrow money). It creates a bankruptcy estate out of the debtor's property, which may then be sold to pay off the remaining debts.
Chapter 13 bankruptcy is a court-approved repayment plan. Debtors repay their debts over three to five years and must submit a plan to the court detailing how they propose to pay off the debts.
Under the Bankruptcy Abuse Prevention and Consumer Protection Act of 2005, new rules are in place for people wishing to file for bankruptcy, including requirements before and after filing for bankruptcy. Please read the bankruptcy guide (in PDF) offered by the Federal Trade Commission. Consumers must get credit counseling from a government-approved organization within 180 days before filing for bankruptcy and must attend debtor education after filing for bankruptcy.