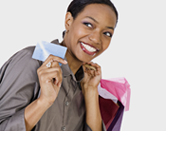 When you use credit, you are borrowing money with a promise to repay at a later date. Credit is not free. It allows you to buy things when you don't have cash, but you will be charged interest and fees. There are three primary types of credit.





Installment Credit
This is credit that you use to borrow money and promise to repay in equal amounts over a specific period of time.

Example of an installment credit:
Pedro signs an auto loan in which he pays the lender $400 each month for five years.

Revolving Credit
This is credit that allows you to borrow a pre-established amount repeatedly as long as your account is in good standing. You repay the amount borrowed in full or make a partial payment that is subject to interest and/or fees.

Example of revolving credit:
Pedro signs up for a credit card. He uses it to make purchases and at the end of each month, he receives his bill. He can choose to pay off the balance in full or make the monthly minimum payment.

Open Credit
This type of credit requires that all money borrowed must be repaid in full every month.

Example of open credit:
Pedro has a company charge card he uses to pay all his business expenses. Each month, when he receives the bill, he provides it to the company to pay off the entire balance in full.

Learn how to start building or reestablishing your credit