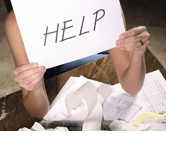 If you are struggling with debt or need help managing your credit, a credit counselor may be a good resource to help with your money problems.




Three signs you need a credit counselor:
You are unable to pay the minimum balance on your credit cards every month or you cannot repay your payday loan on time.
You are unable to pay regular bills (such as rent, water, phone) on time.
You are unable to work out a reasonable repayment plan with your lenders.
If any one of these signs reflects your situation, learn how a credit counselor can help you with your money questions.