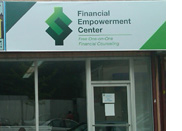 In 2012, the City of New York contracted with several nonprofits to create a network of Financial Empowerment Centers. Funding is provided by both the City of New York and the Mayor's Fund to Advance New York City.
Financial Empowerment Centers are operated by the Department of Consumer Affairs Office of Financial Empowerment (OFE) in partnership with:
Bedford Stuyvesant Restoration Corporation
East River Development Alliance
The Financial Clinic
Neighborhood Trust Financial Partners
Phipps Community Development Corporation
OFE thanks the organizations below for their generous contributions over the years. Without their support, the Financial Empowerment Center initiative would not have been possible.
Citi 
Citi Foundation
Capital One
New York State Division of Housing and Community Renewal (DHCR)
AIG Financial Literacy Fund
NeighborWorks America
CIT
ConEd
Corporate Fuel Advisors LLC
F.B. Heron Foundation
Goldman Sachs
H&R Block
Insurance Industry Charitable Foundation
Morgan Stanley
Oak Hill Advisors LP
Single Stop USA
Verizon Foundation