| | |
| --- | --- |
| | For process flow charts, templates, or property information, click on a link below to jump to that section. |
Process Flow Charts
To better understand the process of satisfying the requirements of an E-designation, please refer to one of the flow charts below. There is one chart for each type of E-designation, i.e., Hazardous Materials, Air Quality, and Noise.

Please keep in mind that when dealing with sites covered by more than one type of E-designation (e.g., HazMat and Noise), the processes illustrated will run parallel and simultaneously; no official notice will be issued by OER until all the requirements for each designation are met.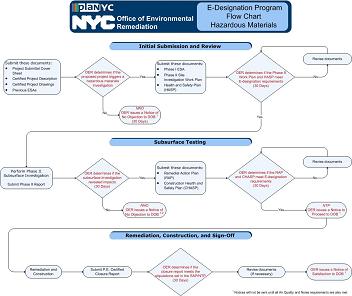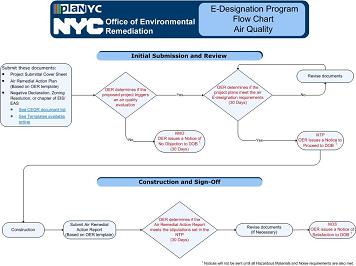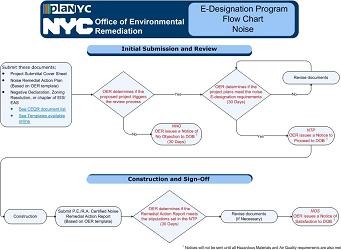 Templates
OER has developed templates to provide specific guidance on submittals required under the NYC E-Designation Program. The templates are intended to make document preparation easier for enrollees by decreasing document preparation time and improving the quality of submittals. They are also intended to make the process of navigation through the NYC E-Designation Program more predictable by offering a standardized submission format and content requirements. Finally, the use of these templates also enables OER Project Managers to provide faster review of submittals.

Please download the relevant template from the following list and use it to prepare your submittals:


Hazardous Materials

Air Quality and Noise

Last Updated: February 03, 2015

Adhering to this template is required by OER and is intended to significantly shorten the review period and approval process. This generic RAP template will be subject to periodic modification and improvement. To ensure that you have the most updated version, check here or contact your OER Project Manager. As you work with this template, comments and suggestions regarding improvement of this document are welcome.

At this time only a portion of the templates are available. Additional templates will be made available in the future.

Property Information

NYC Department of City Planning

Environmental Review Process - (E) Designations - Frequently Asked Questions

Full list of adopted E-Designations and Restrictive Declarations are searchable by Tax Block and Lot Number.

If you do not know your Tax Block and Lot number, you can retrieve them using the GeoQuery Address Translator.

NYC Department of Finance

To obtain specific property information and/or a copy of a Recorded Restrictive Declaration on a specific Tax Block and Lot, visit the Department of Finance website for the ACRIS online city register.

NYC Department of Buildings

To access your property profile information from the Buildings Information System (BIS).

DOB Operational Bulletin - Properties subject to E-Designations or Restrictive Declarations must receive approval from OER before permit application approval, permit issuance, and permit sign-off in connection with certain types of work. DOB Operational Bulletin 2014-026 (in PDF) identifies the types of work subject to OER approval and the significance of the three most common notices that OER issues.