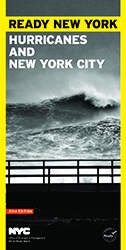 Ready New York: Hurricanes and New York City includes general tips on how to prepare for any emergency, instructions on how to develop a hurricane disaster plan and secure your home before a storm, and a map of New York City hurricane evacuation zones.

Find out what zone you live in and the location of your nearest evacuation center/shelter.

Click the links below to download (in PDF) the text and map in one of the languages below, or receive a hardcopy by calling 311 (TTY: 212-504-4115) or by contacting 311 online.

This brochure is also available in an audio format.

To download the recorded version, right-side click the link and select "save target/link as..."

Call 311 (TTY:212-504-4115), or contact 311 online to receive an audio copy by mail.