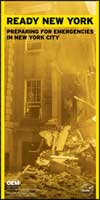 Ready New York: Preparing for Emergencies in New York City takes an all-hazards approach to teaching New Yorkers how to stay safe when facing an emergency. This guide is the flagship of the Ready New York campaign. It draws on expertise from dozens of City agencies. It is available in 11 languages, as well as in audio format, and may be downloaded online (in PDF) or received by mail by calling 311 (TTY: 212-504-4115).

This brochure is also available in an audio format.

To download the recorded version(s), right-side click the link(s) and select "save target/link as..."

Call 311 (TTY:212-504-4115) to receive an audio copy by mail.