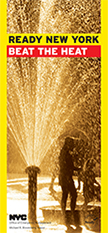 On warm summer days, New York City can be as much as 10 degrees warmer than surrounding areas. Ready New York: Beat the Heat offers tips on how to stay healthy and cool during the summer months, conserve water and energy, and identify and treat individuals with heat-related illnesses. Download a brochure (in PDF) or call 311 to receive copies by mail.
| | |
| --- | --- |
| | |
| | |
| | |




This brochure is also available in an audio format.

To download the recorded version, right-side click the link and select "save target/link as..."

To receive an audio copy by mail, call 311 (TTY: 212-504-4115), or contact 311 online.