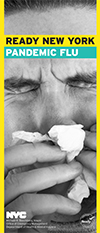 In April 2009, NYC Emergency Management and the Department of Health and Mental Hygiene introduced Ready New York: Pandemic Flu to address the threat of a pandemic influenza in New York City. Coincidentally, a rash of confirmed H1N1 (human swine) flu cases appeared in New York City the very week this guide launched. Regardless of the strain, this guide can help protect New Yorkers against any flu virus.

This brochure is also available in an audio format.

To download the recorded version, right-side click the link and select "save target/link as..."

To receive an audio copy by mail, call 311 (TTY: 212-504-4115), or contact 311 online.