CIMS uses the Incident Command System (ICS) organizational model as implemented in the National Incident Management System (NIMS). ICS is a management system for coordinating the combination of facilities, equipment, personnel, procedures, and communications operating within a common organizational structure, designed to enable effective and efficient incident management. A basic premise of ICS is that it is widely applicable. It is used to organize near-term and long-term field-level operations for a broad spectrum of emergencies, from small to complex incidents, both natural and man-made.

ICS is structured to facilitate activities in five major functional areas: Command, Operations, Planning, Logistics, and Finance/Administration. In CIMS, additional areas, such as Investigations, may be implemented to meet specific functional requirements not addressed using the NIMS ICS model.



CIMS ICS Organization Chart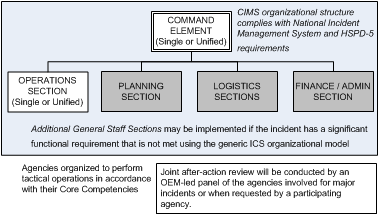 Tactical assignments in the Operations Section are made according to agency Core Competencies.