On June 9, 2010, OEM conducted Purple Haze, a Continuity of Operations drill that forced participants to manage a hypothetical hurricane from an auxiliary location. In the training scenario a category two hurricane made landfall near Jones Beach, New York causing extensive flooding and wind damage throughout the city. OEM headquarters suffered a number of broken windows and lost the use of its IT network, rendering the building useless. OEM leadership moved the City's Emergency Operations Center to OEM's warehouse, which lies outside the coastal flood zones, to coordinate the city's recovery.

The Blue Team arrived at the warehouse through combination of carpools and bicycles to take over operations two days into the mock activation. At this stage in the training scenario, the City's shelters were beginning to shut down operations, electric grid outages dotted the city, and the Department of Environmental Protection maintained a "Boil Water" notice for all boroughs. Roads were still clogged with debris and natural gas outages and leaks throughout National Grid's network further complicated the recovery.

The Blue Team members worked through the hypothetical complications, but the information technology infrastructure and the techs who keep it running were the real subjects of the test. This exercise was the first full-scale test of OEM's Continuity of Operations plan. Drill controllers watched and noted any problems blue team staff encountered while using familiar technology and software in an unfamiliar environment.

"The Purple Haze Exercise was a wonderful opportunity for team members to problem solve together in a stress-free, simulated environment. Logging into E-team, creating incident objectives and working from an unfamiliar location all help prepare tem members for real world incidents," said Virginia Mewborn, OEM's Assistant Commissioner for Training and Exercises.



OEM's Blue Team gathered at OEM's warehouse in Brooklyn for Purple Haze, a full-scale Continiuty of Operations drill based on a hurricane hitting the city.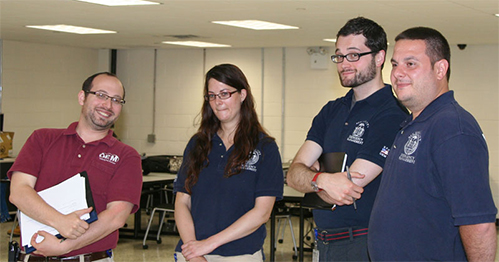 OEM's Training and Exercises staff observed the drill to note any technical problems players encountered while working from a new location.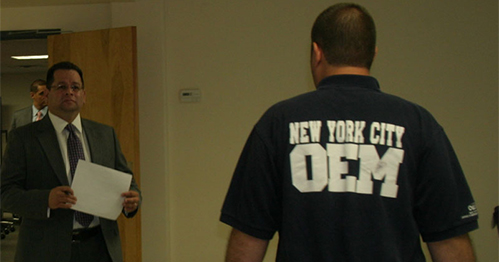 OEM Chief of Security Felix Torres worked to establish security measures at the new location.