OEM Headquarters Wins Architecture Award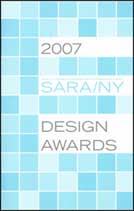 On June 26th, 2007, OEM's new headquarters recieved the SARA Award of Excellence in the 2007 SARA/NY Design Awards for the rehabilitation of an existing facility.
Architects at Swanke Hayden Connell & Partners LLP rehabilitated an old American Red Cross building to create a new sustainable headquarters for OEM.
The Society of American Registered Architects (SARA) was founded in 1956 as a professional society that includes the participation of all architects, regardless of their roles in the architectural community. SARA has 11 councils in eight states, including the New York Council.
Learn more about OEM Headquarters
Read about SARA's New York Council