STATEN ISLAND NEIGHBORHOOD HIT BY F0 TORNADO - OCT. 27, 2003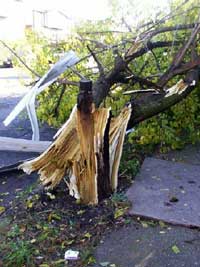 A weak F0 tornado touched down in Staten Island, Monday afternoon, Oct. 27, 2003. The tornado developed along the leading edge of a line of heavy showers and thunderstorms.
Representatives from the National Weather Service (NWS) and OEM visited the Bullshead and Willowbrook areas to perform a damage assessment. In the Bullshead area, at least eight trees were uprooted, aluminum siding was ripped off the sides of two houses, and two parked cars were pushed into the middle of the road. Rotational tree damage, indicative of a tornado, was observed on Morani and Leona Streets. An eyewitness reported seeing a tornado from his driveway in this area between 4:20 p.m. and 4:25 p.m.
Based on this information, NWS classified the storm a F0 tornado, with an estimated path of 50 feet wide and one tenth of a mile long, and estimated wind speeds of 70 mph. The last tornado to hit Staten Island was an F1 tornado on Oct. 28, 1995.
In the Willowbrook area, a 30-foot pine tree was downed and another tree uprooted near the intersection of Buchanan and Westwood Avenues. An eyewitness saw a swirling column of air at 4:28 p.m. that lasted about 10 seconds and moved northeast. Based on the minimal damage that occurred, this storm was classified a "gustnado."
Gustnadoes are small vortices that sometimes form along strong gust fronts. They are smaller than tornadoes but can cause significant damage to lightweight structures and trees.