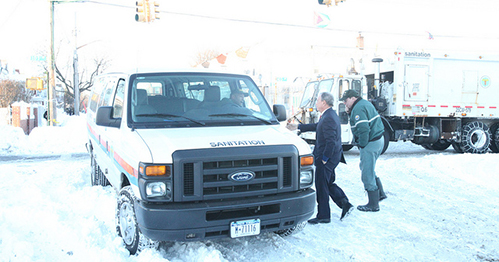 On December 26, 2010, a Nor'easter dropped more than 20 inches of snow on New York City. Strong winds pushed the falling snow into drifts that measured up to four feet. Transportation suffered major delays as airports and rail shut down across the city and Long Island. Travelers driving home from the holidays got stuck in the snow and abandoned their vehicles. These abandoned vehicles made it difficult for the city's plows to clear the accumulating snow. The 2010-2011 winter went on to be one of the snowiest on record, with 56.1 inches falling in January 2011 alone.
After the storm, OEM introduced a Snow Emergency Declaration to caution residents against unnecessary driving during a snowstorm and keep roads clear for plows and emergency vehicles.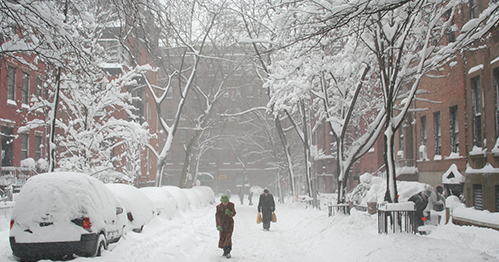 Record-breaking snowfall blanketed New York City on February 11 and 12, 2006, making this February storm the biggest in the city's history. Measurements taken in Central Park showed that 26.9 inches had accumulated by the storm's end. The snow fell for 16 hours, and meterologists classified the storm as a nor'easter with winds about 20-30 mph.
In the city, the Department of Sanitation worked around the clock to remove snow from roads and walkways. The City deployed 2,500 workers to cover 12-hour shifts to handle snow clean-up.
With 25.4 inches of snow reported at LaGuardia Airport, hundreds of flights at both LaGuardia and John F. Kennedy Airports were canceled. Long Island Railroad temporarily stopped service into and out of Penn Station; Metro-North service shut down for part of the day; extensive subway delays were seen mostly on the 2, 4, 5, L and M lines; New York City's Bus service was running at 50% capacity. Despite the transportation interruptions, no serious storm-related injuries occurred.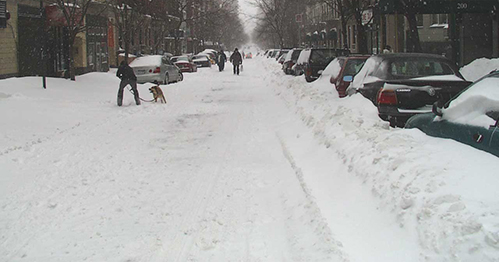 Nearly two feet of snow blanketed the New York City area following the President's Day storm of Feb. 17, 2003, which claimed 42 lives nationwide, stranded thousands of travelers, and cost the City $20 million.
Two deaths in the metropolitan area were attributed to the storm, including a man who died of carbon monoxide poisoning while he was warming up his car, and a man killed when a roof collapsed under the weight of the snow.
Major airports along the eastern seaboard — including LaGuardia Airport — shut down, while Kennedy and Newark Airports issued extensive flight cancelations. Bus service was halted in and out of Port Authority Bus Terminal, while Metro-North, Long Island Rail Road, New Jersey Transit, and Amtrak trains ran with scattered delays.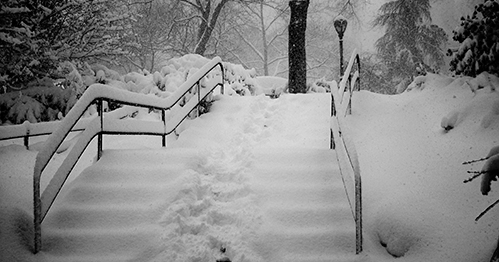 Dumping more than 20 inches of snow in Central Park, the blizzard of Jan. 7-8, 1996, marked the second biggest snowstorm in New York City history. With winds gusting to more than 50 miles an hour, the powerful nor'easter caused widespread power outages, scores of fatalities and $1 billion in damages from Washington, D.C. to Boston.
Thousands of travelers were stranded at City airports, bus terminals, and highway rest stops as transportation ground to a halt. On Jan. 8, New York City public and parochial schools were ordered closed, several Broadway shows canceled performances, and the New York Stock Exchange had a short day.
Dozens of deaths were attributed to the storm, including a Connecticut man and two New Jersey men who suffered heart attacks while shoveling snow.
As 26,528 tons of salt was spread on City roads, snow was hauled to designated vacant lots and parking areas or dumped into the East and Hudson Rivers. By the end of the 1995-1996 winter season, New York City had experienced 16 snowstorms and recorded more than 89 inches of snow.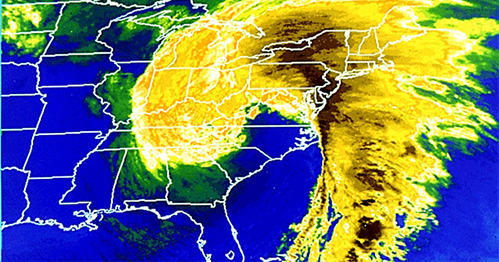 Source: NOAA's Celebrating 200 Years Collection
From March 12-14, 1993, the 1993 superstorm was called such because it affected the entire eastern third of the U.S. There was a major severe weather event in the southeast, flooding and snow in the Mid-Atlantic states and blizzard conditions in the northeast. New York City's Central Park recorded 10.2 inches of snowfall on March 13. Overall, the nation incurred more than $3 billion in damage.
The "Storm of the Century" marked the first time that NOAA's Weather Service was able to forecast a storm of this magnitude five days in advance and provide storm and blizzard warnings two days in advance.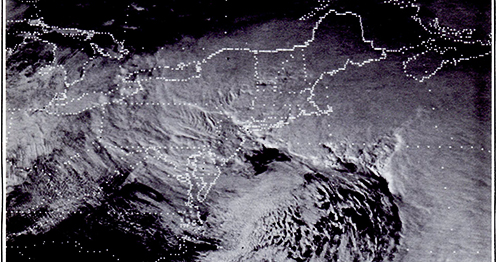 Satellite image of the 1978 blizzard recorded on February 6, 1978 at 1530 HRS. Source: NOAA Natural Disaster Survey Report 78-1, "Northeast Blizzard of '78 February 5-7, 1978"
While the storm, which occurred February 6-7, 1978, is more well known for its impact on coastal New England and Long Island, it still affected eastern New York: 17.7 inches was recorded in mid-Manhattan alone.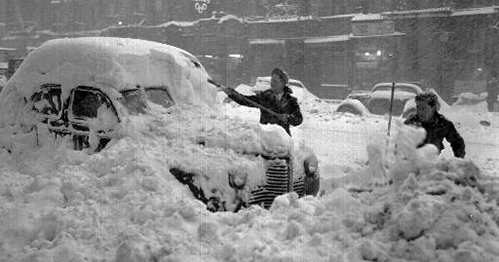 Source: New York Public Library
Holding the previous record for the biggest snowstorm in New York City history, the blizzard of 1947 dropped 26.4 inches of snow in Central Park over two days (December 26-27). As moisture in the Gulf Stream fed the storm's energy, the City was paralyzed when the blizzard barreled its way through, stranding cars and buses in the streets, halting subway service, and claiming 77 lives.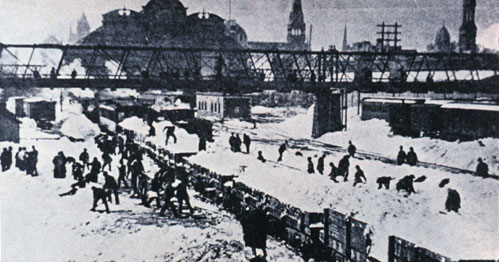 45th Street and Grand Central Depot, New York, March 1888, Source: NOAA's National Weather Service Collection
With 21 inches of snow falling over a two-day period — the third largest accumulation on record — the blizzard of 1888 hit New York City by surprise at the end of a warm March day (March 11-14). As two storms, one approaching from the south and one from the north, met over the City, heavy precipitation and winds gusting up to almost 75 mph resulted in snowdrifts up to 30 feet high. Roads and highways were blocked, steam train service was suspended, horse-drawn streetcars and taxis halted operations, and ships docked in New York's harbor.
A New York Central locomotive derailed while attempting to push past snow drifts in the 4th Avenue tunnel, and many commuters were stranded on elevated tracks in unheated cars. It took 14 days for the City to completely recover. The mayor responded in early 1889 by ordering all overhead wires placed underground.