2004 Ready New York Campaign
The 2004 Ready New York campaign featured ads on City buses, subways, and billboards from August - October 2004. The ads were designed to illustrate how little time it takes for New Yorkers to be prepared for any type of emergency.


Click on the images to view a large version of the advertisement.
Subway Interior Cards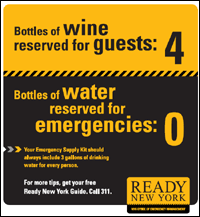 Back to main page