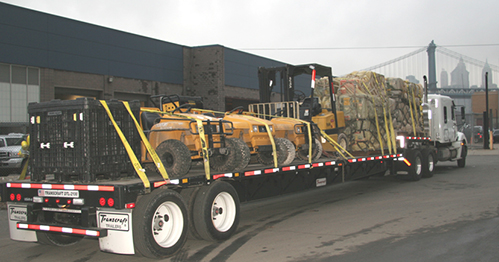 When disaster strikes, businesses are often among the first to provide support. To ensure donations are used and distributed effectively in the wake of an emergency, the New York City Office of Emergency Management (OEM) created the Private Asset and Logistics Management System (PALMS) — a registry of private sector resources.

PALMS aims to maximize public-private partnerships in future emergencies and enhance the City Asset and Logistics Management System (CALMS). Through PALMS, businesses list goods and services they may have available for use by the City in an emergency. The City's most-needed assets during emergencies include personnel, equipment and supplies, and facilities. If the need arises, City response agencies will call on PALMS participants to supply assets listed in the registry.

In an emergency, the City's most-needed assets range from facilities, such as warehouses and phone banks, to equipment, such as refrigerated trucks and office trailers, to personnel with special skills, such as foreign language speakers and licensed engineers.

To enroll in PALMS, complete the online form, call 311 (TTY: 212-504-4115), or contact 311 online. After a brief discussion about your company's assets, OEM will grant you access to the PALMS database. You may then enter and update resource data via a secure Internet site. Upon enrollment, you will also be asked to provide company contact information for updates and resource requests.