As part of the City's continuing efforts to test and refine its emergency preparedness plans and response protocols, OEM hosted Operation United Response, a major multi-agency field exercise, at Shea Stadium on March 14, 2004. Sponsored by the U.S. Department of Homeland Security's Office for Domestic Preparedness (ODP), United Response focused on the City's initial response actions to a weapons of mass destruction attack, and marked New York City's largest field drill, with more than 1,000 emergency responders and hospital staff, and 1,000 volunteers acting as victims.
As the scenario unfolded, drill "players," working from various locations around the City, initiated response operations, and evaluators reviewed player actions to measure how well they met objectives set forth by exercise planners. "Controllers," who planned and managed exercise play, acted in the roles of response officials, provided key data to players, and worked to ensure exercise continuity.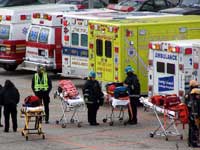 The scenario: An explosion occurs at Shea Stadium, resulting in more than 200 casualties. Fans rush to exit the stadium, and rescuers must contend with scores of evacuees in their attempts to reach the victims. Meanwhile, law enforcement teams find two additional devices in the parking lot that register abnormal radiation levels.
The exercise: Drawing participants from more than 100 agencies and organizations, United Response was designed specifically to test rescue, casualty management, law enforcement, hospital, telecommunications, environmental, and public information response to an incident in a large, public venue.
United Response's objectives were to assess the following:
Interaction between facility operations personnel and local responders, including transition from internal facility response to external emergency response
Procedures to request, receive, and integrate response assets from numerous agencies
Interagency coordination among personnel
Responders' ability to rescue, treat, and track casualties in a mass casualty incident
Responders' ability to protect the public from the effects of a WMD attack
Public information personnel's ability to coordinate information for release to the public
Procedures to ensure perimeter security/crime scene preservation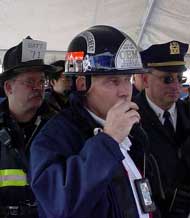 Following the mock explosion, Fire Department (FDNY), Police Department (NYPD), and other first responders were deployed to the scene to initiate response operations. Agencies leading rescue, casualty management, and law enforcement operations were challenged to set up triage; free victims from the debris; coordinate the mass evacuation; and secure traffic, mass transportation and pedestrian control, among other objectives.
Meanwhile, environmental responders from the Department of Environmental Protection (DEP) sampled air to determine if any chemical or radiological agent was released, and FDNY HazMat monitored area conditions in the parking lot. More than 50 area hospitals, many of which received "patients" transported from Shea Stadium, worked to treat and track casualties, and follow protocols for a WMD incident.
Communications teams from the Department of Information Technology and Telecommunication, (DoITT), were on scene to support Nextel and 800MHz radio service, while OEM's Watch Command tracked and monitored radio communications and made appropriate notifications.
On scene and in the OEM press office, public information officers collected information about the incident, assessed public information needs, and worked to develop a message to disseminate to the public via the press, 311 and NYC.gov.
The aftermath: Following the exercise, participants gathered for "debriefing" sessions, in which players, evaluators and controllers reviewed the scenario sequence of events and drill objectives. Smaller functional groups compiled after-action reports, which City agencies and participating organziations will draw on to amend and improve existing plans.