Dear Friends: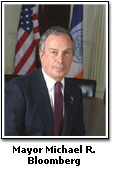 I am pleased to welcome you to the Mayor's Office to Combat Domestic Violence website. We have worked hard to make New York the safest large city in our nation by targeting our efforts to reduce specific crimes. Eliminating crimes of family violence is one of my top priorities, and I hope the resources we are providing online will offer useful information for everyone involved in the fight against domestic violence.
In November 2001, New York City residents voted to create a permanent office, which would comprehensively address issues of domestic violence. I appointed Yolanda B. Jimenez as the first commissioner to head the new office - one of only a few government offices in the United States focused solely on this issue. Under her leadership, the Mayor's Office to Combat Domestic Violence is working closely with victims, community leaders, health care providers, City agencies, and representatives from the criminal justice community to create effective policy to prevent domestic violence in New York City.
Each day, we reach out to victims Citywide and encourage them to report domestic abuse. We make our message clear that, regardless of one's immigrant status, help is available in New York City. For too long, victims of abuse have been afraid to come forward. We are letting all New Yorkers know that help is available and that violence simply will not be tolerated. We appreciate your involvement in this vital mission as we work together to leave an invaluable legacy for generations of New York families.
Sincerely,
Michael R. Bloomberg
Mayor