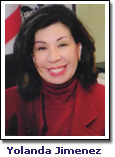 Welcome to the website of the Mayor's Office to Combat Domestic Violence.
The Mayor's Office to Combat Domestic Violence (OCDV) was created in 2001 when New York City residents voted to make the office a permanent part of City government. Our mission is to make it as easy as possible for domestic violence victims to get the help that they need regardless of their language or immigration status. To do this, we collaborate with government agencies, nonprofit organizations, and communities to create innovative public-private partnerships like the New York City Family Justice Centers and the New York City Healthy Relationship Training Academy.
We invite you to tour our website to learn more about our programs, domestic violence services available in New York City, and how individuals, foundations, and the media can help stop the cycle of violence.
Yolanda B. Jimenez