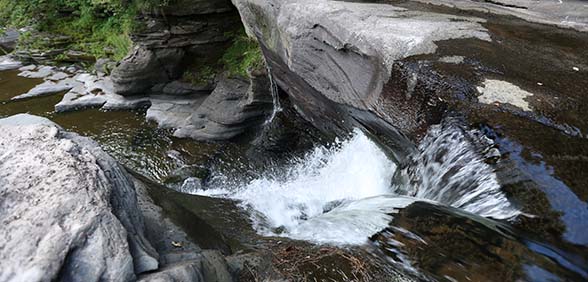 Schoharie Spillway Creek
The New York City Municipal Water Finance Authority is a public benefit corporation established by the New York City Municipal Water Finance Authority Act of 1984 (New York State Public Authorities Law, Section 1045-a et seq.). The Authority provides funding through the issuance of bonds, commercial paper and other obligations to finance the capital projects required to ensure the continued supply and purity of the City's high quality drinking water and for safe wastewater and stormwater collection, treatment and disposal.
The Authority is administered by a seven-member Board of Directors. Four of the members are ex officio members: the Commissioner of Environmental Protection of the City, the Director of Management and Budget of the City, the Commissioner of Finance of the City and the Commissioner of Environmental Conservation of the State. The remaining three members are public appointments: two by the Mayor, and one by the Governor.
The Authority, together with the New York City Water Board and the New York City Department of Environmental Protection, manage the City's water and wastewater system. The Department of Environmental Protection operates and maintains the system with a work force of over 5,700. The Water Board, which was created by the New York State legislature at the time of the creation of the Authority, has the primary responsibility to levy and collect water and wastewater rates and charges.
The water system has storage capacity of 550 billion gallons and provides over 1 billion gallons per day of high quality drinking water to more than eight million City residents and another one million users in the four upstate counties where the water supply system is located. The transmission and distribution system is made up of an extensive grid of water mains, aqueducts and tunnels stretching approximately 6,700 miles.
The City's wastewater is collected through an equally extensive grid of sewer pipes of various sizes and stretching over 7,400 miles. Virtually all of the City's dry-weather wastewater is collected through this system and processed by one of 14 wastewater treatment plants located throughout the City's five boroughs. The plants currently treat about 1.3 billion gallons of wastewater per day. The operation of these plants ensures that New York City's surrounding waterways are clean and safe.