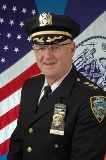 Chief of Transit: Joseph Fox

Street
, 3rd Floor
Brooklyn, NY 11201
Phone: (718) 694-4050
Welcome to the Transit Bureau Web Page.
Chief of Transit Joseph Fox joined the New York City Police Department in July 1981, and began his career on patrol in the 70 Precinct. He was promoted to Sergeant in October 1984; Lieutenant in June 1989; Captain in January 1992; Deputy Inspector in December 1995; Inspector in December 1996; Deputy Chief in December 1997 and Assistant Chief in May 2000. He served in the 61, 62, 70 and 90 Precincts, as well as the Inspections Division, Internal Affairs Bureau, Office of the Deputy Commissioner Training, The Warrants Division, and Patrol Borough Brooklyn North Strategic and Tactical Command (S.A.T. COM).
Chief Fox most recently served as the Commanding Officer of Patrol Borough Brooklyn South and has previously commanded Patrol Borough Queens South, the Office of the Chief of Internal Affairs Bureau, the Office of the Deputy Commissioner Training and the 71 Precinct. He has also served as the Executive Officer of Patrol Borough Brooklyn North S.A.T. COM and the 71 Precinct.
As Chief of Transit, Chief Fox will ensure the members of the Transit Bureau strive to meet the standards of the Department and the Transit Bureau Mission. It is the mission of the Transit Bureau to ensure the safety and order of all persons on the New York City rapid transit system, to reduce the fear and apprehension of the riding public, and to serve as the Police Department's primary provider of police services to the transit system.
Chief Fox holds a Bachelor of Science degree in Security Management from John Jay College. He is also a 1995 Graduate of the Police Management Institute at Columbia University.

You can learn interesting facts about the NYC subway system as well as important tips on how to ride the subway more safely.