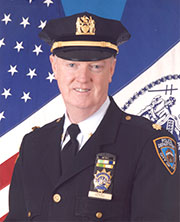 Commanding Officer: Deputy Inspector Patrick Kerins
Van Wyck Blvd. subway station,
Main Street/Queens Boulevard, Jamaica, NY 11435
Phone: (718) 558–5422

The Transit Queens Borough Command is responsible for patrol coverage for most NYC subway stations in Queens. There are two patrol commands, known as "Districts", that fall under the Borough Command (District 20 and District 23), each responsible for a geographical area of the subway in much the same way that precincts patrol neighborhoods above ground.