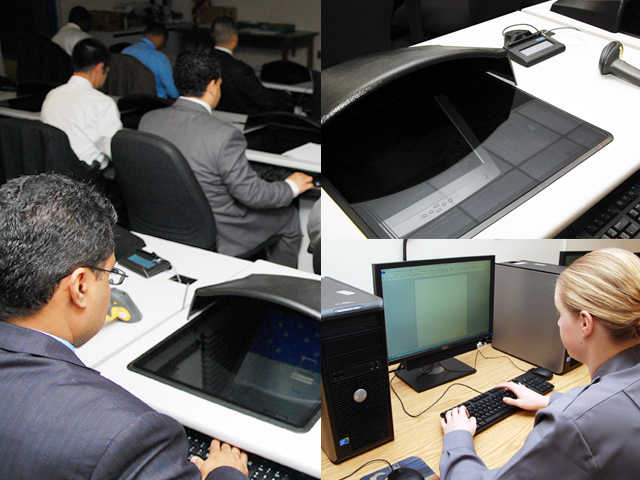 The Computer Training Unit presents instruction to NYPD members on the proper operation and usage of both standalone and online computer applications. This support is provided through a combination of classroom instruction, the development and distribution of training material, and in person and telephone assistance. As one of the frontline disseminators of computer instruction, our goal is to create a learning environment that is professional and geared toward the specific learning needs of our students. The Computer Training Unit plays an integral part in the rollout of new software applications. Since its creation, the Computer Training Unit has also assisted with the conversion of several paper forms to its more streamlined and efficient computer alternative. Forms that have been converted include the Property Clerk Invoice Form, Firearms Discharge Assault Report, Complaint Follow-up (DD5), Uniform Performance Evaluation (rank of Lieutenant and below), Recruit Performance Evaluation, UF 250 Stop, Question and Frisk, and the Department Vehicle Accident Report.  Thousands of members of the service have participated in these classes.  
     The unit also presents training to other city agencies. Frequently, agencies such as the Port Authority Police, Attorney General and District Attorney's Offices require specialized training on our arrest processing programs. Due to the sensitive nature of these programs the classes must be conducted at our training facility in the Police Academy. Our training classes are open to both uniform and civilian members of the service. 
     Students that attend our courses come from both patrol and administrative commands. The Computer Training Unit provides training for promotional classes such as Lieutenants and Sergeants, Executive Development (Captains and above) and computer classes for new hires (Recruits and Police Administrative Aides). The Computer Training Unit trains School Safety Agents and School Safety Agent Recruits.  The School Safety Division participates in both our uniform and non-uniform related training. All School Safety Agent Recruits participate in a one (1) day Arrest Processing course.
     With over 30 classes to choose from, most members of the service will find something in our curricula to improve their computer skillset. Courses conducted through the Computer Training Unit include, but are not limited to: Property Evidence and Tracking System(PETS), FINEST, SPRINT, OmniForm Arrest, OmniForm Juvenile, ARCS, Computer Basics, and Microsoft 2003 Word, Excel, Access, and PowerPoint.