Police Commissioner Raymond W. Kelly presided today over the Department's annual pre-Ramadan conference for Muslim community leaders and others inside Police Headquarters. Imam Feisal Abdul Rauf served as guest speaker at the event, attended by more than 500 religious and community leaders, police commanders and members of the NYPD's Muslim Officers Society, as well as many of the teams of young men who are playing in the Department's youth cricket league, now in its fifth season. The NYPD instituted its pre-Ramadan security conferences in 2002.

"Each year, in anticipation of the holy month of Ramadan, the police department hosts this gathering to let you know about the extra security measures we'll be taking, to discuss our partnership with Muslim New Yorkers," Commissioner Kelly said. "During this most sacred time of year – a time of reflection, devotion to God, and spiritual discipline – our goal at the police department is to make sure you're able to experience it in safety and in peace. We know of no plans against the Muslim community in New York. However, we remain vigilant in our protection of religious freedom of every faith."

The Department deploys additional officers and patrol cars around mosques and Muslim neighborhoods to increase security and deter crime during religious observances. In addition, it furnishes commanding officers and precinct commanders with a detailed guide ahead of Ramadan to help them to prepare for the religious observances. The guide overviews the significance and dates of the Ramadan season, the five pillars of Islam and other principles and practices of the Muslim faith.

Commissioner Kelly also acknowledged members of the NYPD Muslim Advisory Council on Wednesday, comprised of community leaders who will provide feedback and guidance to the Police Department on community relations and public safety. They are Meesam Razvi from the Al-Khoei Foundation religious institute and school for Shia Muslims in Queens; Daisy Khan, executive director of the Manhattan-based American Society for Muslim Advancement; Imam Dr. Tahir Kukiqi, leader of the Albanian Islamic Cultural Center on Staten Island; Moustafa Elshiekh, the founder and president of AmeriPeace in Queens; Imam Ahmed Dewidar of the Mid-Manhattan Islamic Society; Imam Khalil Abdur Rashid, Muslim Religious Life Advisor at Columbia University and founding Imam at Iqra Islamic Center in Brooklyn; Imam Salihou Djbay, Council of African Imams, Brooklyn; Dr. Ahmad Jaber, founder of the Arab American Association of New York and president of the Arab Muslim Federation, Brooklyn; Imam Sheikh Moussa Drammeh, founder of the Islamic Leadership School in the Bronx.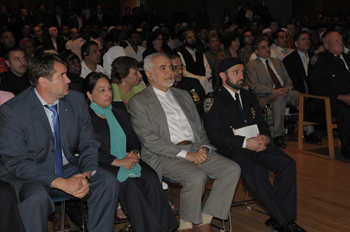 Over 500 people attended the annual Pre-Ramadan Conference held today in the auditorium at One Police Plaza. Attendees included guests (left to right) Imam Tahir Kukiqi, Daisy Khan and Imam Feisal Abdul Rauf, and NYPD Chaplain Imam Khalid Latif.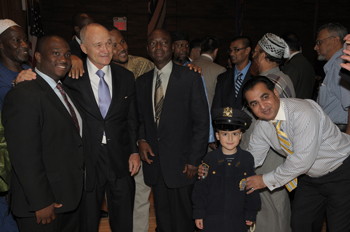 Members of the Muslim community visit with Police Commissioner Raymond W. Kelly at the Department's 10th annual pre-Ramadan conference, at which the NYPD Muslim Officers Society was recognized. One member's son joined the festivities.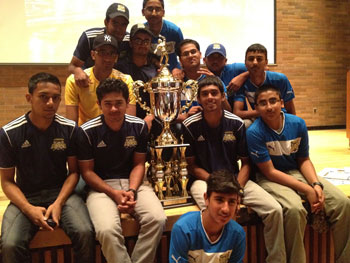 Players from various teams in the NYPD Youth Cricket league gather around the Police Commissioner's Cricket Cup Tournament championship trophy, to be awarded in August. The players, who come from predominantly Muslim communities, attended and were recognized at the NYPD Pre-Ramadan Conference held today.
Keynote speaker Imam Feisal Abdul Rauf is the chairman of the Cordoba Initiative and founder of the American Society for Muslim Advancement, the first Muslim organization committed to bringing American Muslims and non-Muslims together through programs in academia, policy, current affairs, and culture. He is also Imam of Masjid al-Farah, a mosque in Lower Manhattan and the author of several books.
###