Four-Day Course Supplements Classroom Instruction Provided to Recruits in the Police Academy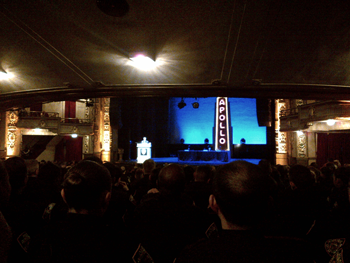 Police Commissioner Raymond W. Kelly addresses the 2013 Police Academy class from the stage of the Apollo Theater in Harlem.
More than 1,100 New York City Police Academy recruits who are set to graduate to patrol duties next week assembled at the historic Apollo Theater in Harlem Wednesday for the first of four days of multicultural immersion training. The course, called "Advancing Community Trust," supplements classroom instruction. Since its debut in 2007, community leaders including the Rev. Al Sharpton and musician Wyclef Jean have participated.
"In New York City, you'll be exposed to more in a year than other police officers are in a lifetime. That includes what you learn in this course, called "Advancing Community Trust." This workshop is about understanding and appreciating the diverse communities you'll serve as officers on patrol. The Harlem community is one of them," Commissioner Kelly said. "This course is designed to remind you that community understanding must be at the heart of police work."
Recruits will hear from a panel of guest speakers, invited to give their perspective on police and community relations, personal experiences with the Police Department and thoughts on how police-community relations can be improved. Department leadership review the role of community relations in the day-to-day mission of the department, and the many different ethnic communities in New York City his city.
Over the next few days, the class will receive additional training in racial and cultural perceptions, examples of barriers that can exist between groups, and how to help overcome them. They will also hear assumptions people make about the police including youth perspectives. Scenes from the movie "Crash" are used to illustrate prejudice and its consequences. Recruits also participate in role plays, hear directly from precinct commanders and community and religious leaders. They receive instructions on procedure, a refresher on legal street encounters, and clarification between criminal profiling and racial profiling.
Panelists Wednesday included Commissioner Margarita Lopez of the New York City Housing Authority, a former New York City council member and well-known activist for the LGBT community; Bishop Lester Williams, Senior Pastor of the Community Church of Christ in Jamaica, Queens; the Reverend Herbert Daughtry, community activist and Presiding Minister of the House of the Lord Church. Broadcaster Errol Louis, the son of a retired NYPD inspector and brother of a retired NYPD detective, served as moderator.
###