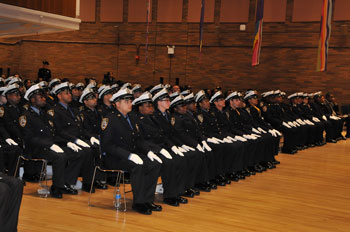 NYPD PHOTO: The NYPD's latest class of Traffic Enforcement Agents attended their graduation ceremony inside One Police Plaza on December 9, 2013.
The New York City Police Department graduated 57 Traffic Enforcement Agents Monday in a ceremony at Police Headquarters. The new agents will be assigned throughout the five boroughs.

"From this day forward you will play a critical role in the Department's mission to keep New York City safe. You will be serving on the front lines protecting the motorists, bicyclists and pedestrians who use our roadways, controlling intersections for emergency vehicles and clearing hazardous conditions" Police Commissioner Kelly said. "It is a job that is not without risk. We were reminded of that nine days ago when Traffic Enforcement Agent Kalyanarat Ranasinghe was struck and killed by a truck in Midtown Manhattan. It was a terrible loss for the police department and we continue to keep his family in our prayers."

Today's graduates join a force of over 2,500 agents. Traffic Enforcement Agents are uniformed, civilian personnel of the Department whose work includes directing traffic, controlling busy intersections and parking enforcement. They must pass 12 weeks of training prior to being assigned to posts throughout New York City.
###