Police Commissioner Raymond W. Kelly today addressed the principals of the Securing the Cities initiative in the northeast, launched and funded by the Department of Homeland Security in 2006 with the New York City Police Department designated lead agency in 2007. Securing the Cities is designed to enhance the nation's ability to detect and prevent a radiological or nuclear attack.

"Thanks to each of you, nuclear and radiation detection is now a standard part of law enforcement operations throughout this region. However, there's no question that the world's financial, communications, and cultural capital - New York and its surrounding communities - will continue to be targeted," Commissioner Kelly said. "The need for this program has never been greater."

The Securing the Cities initiative now extends a 150-mile radius around New York City and established unprecedented levels of inter-agency collaboration and capacity building to protect the region from a nuclear or radiological attack. Since its inception, participants have developed a region-wide concept of operations, or "conops," approach for land, rail and sea; distributed and deployed thousands of pieces of radiation detection equipment, and customized and conducted specialized training for 15,000 officers representing 150 local, regional and state law enforcement and public safety agencies under the NYPD's stewardship.

Attending the meeting today were Dr. Huban Gowadia of the Domestic Nuclear Detection Office in the Department of Homeland Security and senior officials from the Connecticut State Police, , New York City Fire Department, New York City Department of Environmental Protection Police, and New York City Department of Health and Mental Hygiene, New Jersey State Police, New York State Police, New York State Division of Homeland Security and Emergency Services, New York State Metropolitan Transportation Authority Police Department, Port Authority of New York and New Jersey, Nassau County Police Department, Rockland County Sheriff's Office, Suffolk County Police Department and Westchester County Police Department.

Members of other New York, New Jersey and Connecticut agencies through Securing the Cities also have supported the NYPD in securing several presidential visits, high-profile celebrations on New Year's Eve and the 4th of July, U.N. General Assemblies and the New York City Marathon.

Monthly exercises are conducted between NYPD Counterterrorism officers and partner agencies on a continuing basis. In 2011, the NYPD led the largest radiological training exercise in U.S. history, in three states over five days, comprised of multiple scenarios designed to test Securing the Cities partner agencies' ability to detect and interdict possible threats. The April exercise, by land, air and sea, followed a multi-agency tabletop exercise in February 2011, in which 100 representatives reviewed how they would handle an imminent dirty bomb attack involving thefts of radiological material by four separate cells of a fictional terrorist group.

The NYPD has incorporated devices which communicate with its custom-built Domain Awareness System to alert security to an approaching radiological or nuclear threat in real time. The Department also is in the process of building a calibration lab to calibrate and maintain STC equipment.

New York City has been the target of at least 16 terrorist plots since the September 11, 2001 attacks: http://www.nyc.gov/html/nypd/html/pr/plots_targeting_nyc.shtml
NYPD Photos:

Police Commissioner Raymond W. Kelly and Dr. Huban Gowadia addressed participants in the NYPD-led Securing the Cities initiative in a meeting at Police Headquarters Thursday.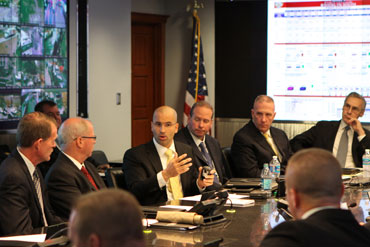 NYPD Counterterrorism Inspector Michael Riggio holds one of the devices that alerts police to abnormal radiological signatures. To his left are NYPD Deputy Chief Salvatore DiPace, Chief of the NYPD Counterterrorism Bureau James Waters and NYPD Deputy Commissioner of Counterterrorism Richard Daddario.