Police Commissioner Raymond W. Kelly today presented the NYPD's Theodore Roosevelt Award to four members of the service who overcame severe illness and extensive treatment to return to their duties in the New York City Police Department.
"Every year, we recognize members of the Department who, like Roosevelt, have exhibited incredible courage and perseverance in the face of adversity. The winners of the award in his name take their place among those who have confronted the most difficult circumstances imaginable, and managed to overcome them," Commissioner Kelly said, continuing in his address to the award winners, "You carry on the finest traditions of Theodore Roosevelt and this department, and provide inspiration to us all."
This year's recipients are:
Police Officer Allan Elazegui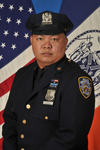 In December 2011, Police Officer Allan Elazegui experienced a headache so excruciating he checked himself into Lutheran Medical Center. A CAT scan revealed a brain tumor, and Officer Elazegui was diagnosed with Grade 3 anaplastic astrocytoma, a fast growing cancer known to invade neighboring tissue. Within a week, part of his skull and 80% of the tumor were removed. Officer Elazegui underwent radiation and chemotherapy treatments resulting in brain swelling; yet he fought sickness and weakness and returned to work in November 2012. Officer Elazegui is a member of the 68th Precinct and previously served the U.S. Army as a security specialist in Iraq.
Detective Eric Grimes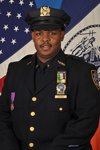 As a police officer assigned to Narcotics Borough Brooklyn South in 2009, Eric Grimes was assisting a buy-and-bust operation in Marine Park when a traffic accident sent a car hurtling in his direction, striking him on his left side and propelling him over a fence. He landed on a lawn with his foot nearly severed. His quick-thinking partners used a belt as a tourniquet and rushed him to the hospital, ensuring he survived. Surgeons later had to amputate Officer Grimes's left leg below the knee. After a grueling rehabilitation process, he returned to work and was promoted to the rank of detective in May 2010. He is currently assigned to the Technical Assistance Response Unit, where he provides equipment and tactical support to his fellow investigators.
Police Officer Benjamin Kaye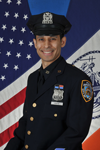 Since 2009, Police Officer Benjamin Kaye has waged a courageous battle against Crohn's Disease, an inflammatory condition of the gastrointestinal tract with no known cure. Officer Kaye suffered intestinal ulcers, hemorrhaging, ileitis, ulcerative colitis and abscesses, as well as a low heart rate, low blood pressure and sepsis. Twice, in 2009 and 2010, he lost all vital signs and had to be revived by medical personnel. He has endured 10 major surgeries and dozens of additional procedures, including the removal of his large intestine and colon, and a permanent ileostomy. After being restored to full duty in June, he resumed patrol in the 33rd Precinct. Officer Kaye has earned a degree in Criminal Justice from John Jay College and is a former member of the U.S. Air Force.
Police Officer Veronica Ruiz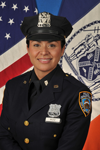 Police Officer Ruiz's experience as a certified registered nurse trained in oncology helped her endure her own battle with Stage 4 non-Hodgkin's lymphoma, with which she was diagnosed in 1999. Despite chemotherapy and radiation treatments, Officer Ruiz's cancer returned twice, spreading to her chest and as a large tumor in her left hip. In remission since 2002, she also overcame a collapsed vertebra and subsequent spinal-fusion operation in 2005. Officer Ruiz is a member of the Medical Division and volunteer for the Police Self-Support Group.
The Police Commissioner's Theodore Roosevelt Award has been given annually since 2005 to exceptional members of the service who have overcome significant medical hardship, in the name of President Theodore Roosevelt, who suffered from debilitating heart condition and childhood asthma. Throughout his life he overcame the physical challenges associated with these illnesses to become the President of the New York City Police Commission from 1895 to 1897, Assistant Secretary of the Navy, Governor of New York, and President of the United States.
###