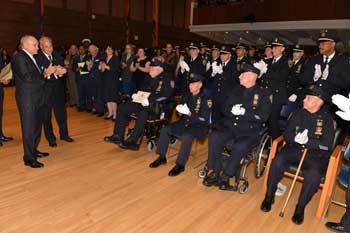 Police Commissioner Raymond W. Kelly has promoted three New York City detectives who were paralyzed and one who was blinded after being shot by assailants to the rank of Detective, Second Grade, in recognition of their enduring courage and service to the Department. The men were first promoted to detective in 2007.

""The history of this department is filled with officers who have fought bravely to defend the public. Some endured injuries that forever changed their lives. They too deserve the city's gratitude and recognition," Commissioner Kelly said during a promotions ceremony at Police Headquarters Thursday. "When people ask why New York City is safe, they can look at these officers and know the reason why. When they ask how we do it, you can see how in the tremendous sacrifices made by these men and their fellow officers across the city who put themselves in harm's way every day to protect the public."

Detective Lawrence Bromm was a police officer assigned to the 78th Precinct when he was shot and paralyzed five days before Christmas 1977 by a bank robbery suspect who opened fire on him and his partner without warning as they took a vehicle accident report in Park Slope. Officer Bromm became a volunteer member of the police self-support group and received the Department's Medal of Honor in 1978.

Detective Donald Rios was part of a Brooklyn Neighborhood Stabilization Unit when he was shot multiple times by an armed robbery suspect in December 1981. Despite his injuries, then-officer Rios returned fire. Doctors said he would never walk again, but after extensive physical therapy and demonstration of will, Officer Rios proved them wrong. He later became the vice president of the police self-support group and is the recipient of a Police Combat Cross.

Detective Keith Prunty and his partner responded to a robbery in progress inside of a grocery store in Manhattan's 9th Precinct in October 1995. Upon arriving to the scene, Officer Prunty was shot in the chest, shoulder, and thigh. He managed to return fire and directed responding officers to take cover; no others were injured and the perpetrators were later apprehended. Wheelchair-assisted, Officer Prunty underwent lengthy rehabilitation and became the proud father of a daughter less than 12 years after he was paralyzed.

Detective Francis Latimer was on patrol with his sergeant in August 1996 when they observed a speeding vehicle run a red light in Washington Heights, Manhattan's 33rd Precinct. The vehicle had just been hijacked at gunpoint and was abandoned moments later by the driver. As then-officer Latimer and his sergeant approached the suspect, he turned and fired five times, striking Officer Latimer in his face, wounds that would blind him in both eyes. Detective Latimer received the Medal of Honor in 1997 and has remained close to the department, also helping officers through the police self-support group.

The Detectives were among 296 uniformed and civilian promotions recognized Thursday in ceremonies at Police Headquarters.
###