Two police boats named in honor of Brooklyn detectives who were fatally wounded in 2004. 
Police Commissioner Raymond W. Kelly joined with Deputy Inspector David Driscoll, Commanding Officer of the Harbor Unit and the families of Detective Patrick Rafferty and Detective Robert Parker Monday to christen two new police response boats named for the fallen detectives. Detectives Rafferty and Parker were fatally wounded in the line of duty in September 2004 in East Flatbush, Brooklyn's 67th Precinct, as they attempted to arrest a career criminal on domestic violence charges. 

Although mortally wounded, Detective Parker was able to identify the gunman to a 911 operator and directed the dispatcher to a mug shot of the killer located on the dashboard of their police vehicle. Detective Rafferty, who was also mortally wounded, managed to shoot and wound the gunman. These actions greatly assisted in the capture of the killer in less than two hours.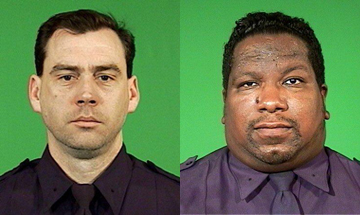 Detective Patrick Rafferty; Detective Robert Parker 
Detectives Parker and Rafferty served the City for 22 and 15 years, respectively, each making more than 300 arrests in their careers. Both were posthumously promoted to Detective First Grade.

"Detectives Rafferty and Parker were deeply devoted to their work, to their fellow officers, and most of all, to their families, who join us for this special occasion. We owe them a debt of gratitude as well and we will always consider them a part of our one, inseparable police family," Commissioner Kelly said. "The Department is committed to doing everything we can to honor the memory of these two remarkable detectives. Today, we do that by dedicating two harbor launches in their honor."

The new boats will be used for patrol and rescue operations in New York Harbor, including safeguarding critical infrastructure and monitoring radiation levels around ports. Thermal cameras and state-of-the-art navigation on the vessels will make it possible for harbor officers to better conduct search and rescue at night or when visibility is poor.
###
Related: Detectives Rafferty and Parker among names added to Police Memorial Wall, 2005