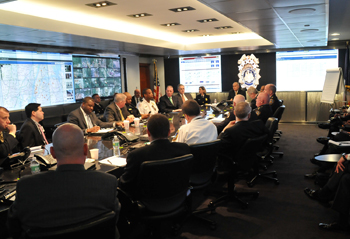 Members of the NYPD, Amtrak Police and other state, regional and local law enforcement discussed security along rail lines at a regular meeting of the NYPD and Amtrak-led Northeast Corridor Coalition at Police Headquarters April 10. The Coalition was established by Commissioner Kelly in August 2005 following the terrorist attacks on mass transit systems the month before in London.
 Police Commissioner Raymond W. Kelly and members of the NYPD and Amtrak-led Northeast Corridor Coalition met April 10 at Police Headquarters to review security of the railways and major transportation hubs between New York and Washington, D.C. In attendance were Amtrak Chief Polly Hanson and police officials from other jurisdictions along the Northeast Corridor.

"Transportation systems worldwide continue to be a target and especially here in New York, where five of the 16 terrorist plots against us since 9/11 have been aimed at mass transit," Commissioner Kelly said. "With your help, we're doing everything we can to protect this vital component of our infrastructure."

The Police Commissioner highlighted multi-agency security exercises covering mass transit – Operation RAILSAFE (Regional Alliance Including Local, State and Federal Efforts) and MASS (Multi-Agency Super Surge) – during which NYPD and other agencies conduct bag checks and perform high visibility patrols in major transit hubs on holiday travel and other high-volume commuting periods.
Since 2007, 132 MASS operations have been conducted, each involving hundreds of personnel from multiple federal, state and local agencies. The NYPD performs Critical Response Vehicle surges, Train Order Maintenance Sweeps, bag screenings, and patrols with heavy weapons and canine, in addition to more than 100 NYPD officers who carry radiation detection devices in and around train cars and platforms.
###
Related:
http://www.nyc.gov/html/nypd/html/pr/plots_targeting_nyc.shtml
http://www.nyc.gov/html/nypd/html/pr/pr_2012_04_19_nypd_amtrak_ne_corridor_coalition.shtml
http://www.nyc.gov/html/nypd/html/pr/pr_2011_05_24_nypd_amtrak_nec.shtml