Police Commissioner Raymond W. Kelly today presented the NYPD's Theodore Roosevelt Award to five members of the service who overcame severe illness and extensive treatment to return to their duties in the New York City Police Department.

The recipients of the award, in its seventh year of being bestowed, include officers who underwent kidney and bone marrow transplants and who endured late-stage cancers of the skin, colon and brain.

"Our honorees have demonstrated incredible fortitude.  They confronted debilitating, life-threatening illnesses and continue to make critical contributions to the New York City Police Department," Commissioner Kelly said. 
This year's recipients are:
Sergeant Supervisor Detective Squad Allan Hoehl
A 26-year veteran of the Police Department, Sergeant Allan Hoehl leads the Metropolitan Area Interdiction Unit of the Drug Enforcement Task Force.  In September 2009, he was diagnosed with Stage III Colorectal Cancer.  While remaining on full duty, he underwent radiation and chemotherapy, then had surgery to remove a tumor. Sergeant Hoehl returned to work weeks later and received chemotherapy for another four months.  In December 2010, he was diagnosed with stage IV cancer in his liver, requiring tumor removal and a second operation requiring five blood transfusions.  Sergeant Hoehl continues to receive monthly monitoring for his condition.
Sergeant Supervisor Detective Squad Salvatore Motta
In December 2008, Sergeant Motta was diagnosed with Non-Hodgkin's Lymphoma of the skin and bone marrow.  He underwent two surgeries in subsequent months to remove large tumors underneath his scalp, then began four months of chemotherapy to treat the bone marrow cancer and combat tumors in his nose, face and head.  With his immune system compromised, Sergeant Motta contracted double pneumonia in June 2009.  Throughout his sickness, Sergeant Motta oversaw many cases in the Bronx Special Victims Squad, and was later designated commanding officer of the Brooklyn Special Victims Squad.
Sergeant Sean Walsh
In April 2010, doctors for Sergeant Sean Walsh discovered a large tumor encasing his pituitary gland which had spread into his brain lining, wrapping around the carotid artery and optic nerves.  It was diagnosed as Intracranial Masson Tumor, a rare condition only known to have occurred in a handful of people since 1940. Over eight months, Sergeant Walsh underwent five extensive surgeries, each lasting between 12 and 18 hours and resulting in significant blood loss.  In December 2010, he began radiation therapy and continues to undergo medical exams, treatments and scans.  In March 2011, he returned to full duty and now serves as the 94th Precinct's Field Intelligence Officer.
Detective Jeffrey Lee
In his 25 years with the Police Department, Detective Jeffrey Lee of the 112th Precinct Detective Squad has made hundreds of arrests, earning promotions to Detective Investigator and Detective 2nd Grade. For the past 12 years, he has also battled diabetes. In June 2010, he suffered renal failure which required him to receive dialysis three times a week.  While undergoing these treatments, he remained at work and handled a full caseload. In June 2011, Detective Lee contracted a MRSA infection requiring his left leg at the ankle to be amputated, and then again below the knee. He spent three months in the hospital rehabilitation and was fitted with a prosthetic limb. This January, Detective Lee returned to work and was restored to full duty in March. He continues to investigate crimes in Forest Hills and Rego Park.
Police Officer Lorraine Bowden
After being examined last June for an excruciating headache, Police Officer Lorraine Bowden of the Emergency Service Unit Canine Team was told that she had two aneurysms on each side of her brain. Surgeons removed portions of her skull to perform separate craniotomies over three months. Despite an arduous recovery, Officer Bowden returned to work in October 2011, completed a six-week re-certification course with her canine partner Maverick, and resumed patrol.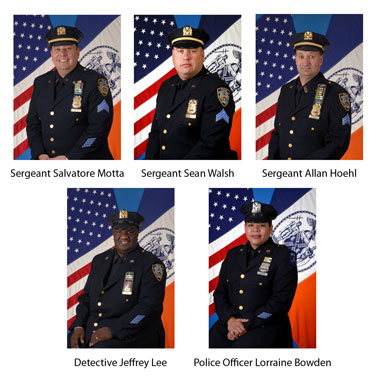 Most often remembered for his United States Presidency from 1901 to 1909,Theodore Roosevelt was previously the President of the New York City Police Commission from 1895 to 1897. He persevered physical challenges brought on by a heart condition and childhood asthma, and rose in influence and prominence throughout his lifetime. Roosevelt also served as Assistant Secretary of the Navy and Governor of New York. The Department has presented awards in his name since 2005.
###