More than 900 young New Yorkers graduated from the New York City Police Department's Youth Police Academy today at 1 Police Plaza.  The six-week program is available to New York City students between the ages of 10 and 17 and is intended to give young New Yorkers an opportunity to learn more about the job of a New York City Police Officer. 

Police Commissioner Raymond W. Kelly said: "The graduates have had the unique opportunity to learn about the challenges police officers face on a daily basis. I commend them for taking advantage of this opportunity to challenge themselves and further their education. Regardless of what they do in the future, I know the Police Department can count on them as allies."

Students attend the Academy five days a week at locations in each borough. During the summer program the students interact with police officers and learn about police skills and procedures.  Youth Academy students received first-hand accounts from Police Officers about what it is like to rush to a crime scene, render aid to a victim, collect evidence and arrest a dangerous criminal. During the course of the Academy, they learn about specialized units including the Emergency Service Unit, K9, and the Mounted Unit while they also participate in daily calisthenics and military drills.

The program was started 17 years ago and has more than 10,000 graduates.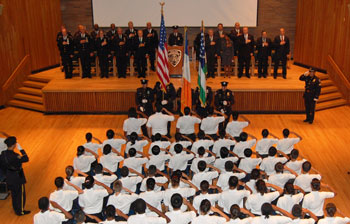 NYPD Photo: Police Commissioner Raymond W. Kelly, NYPD executive staff, and Youth Police Academy graduates stand for the singing of the national anthem during the graduation ceremony at One Police Plaza.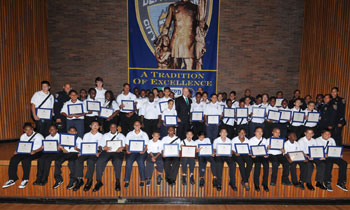 NYPD Photo: Graduates of the NYPD Youth Police Academy with Police Commissioner Raymond W. Kelly after receiving their graduation certificates.
###