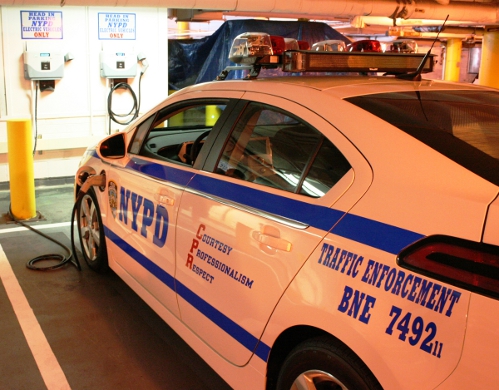 NYPD PHOTO: Ten marked electric Chevrolet Volts were introduced Aug. 1 to the NYPD fleet. The first electrically powered police cars are being driven by traffic enforcement agents in Manhattan and Brooklyn.
The NYPD has introduced the fully electric Chevrolet Volt to its fleet, the latest addition to the Department's alternative-vehicle fleet of more than 300 hybrid and other electric vehicles.

Ten marked Volts will be used by the Traffic Enforcement Division in Manhattan and Brooklyn beginning today. The four-door sedans are the first fully electric car used by the police, who also use electric scooters and other electric transport vehicles in transit hubs and parks.

The Department deployed the Nissan Altima hybrid in 2009, the first alternative fuel vehicle to be used as a marked patrol car, and the Ford Fusion hybrid last summer.

All of the Department's alternative-fuel vehicles are partly funded through PlaNYC, the City's long-term plan to reduce greenhouse gas emissions. More information about electric cars can be found on the City's electric vehicle information site, Drive Electric NYC, available at http://www.nyc.gov/html/ev/html/home/home.shtml.