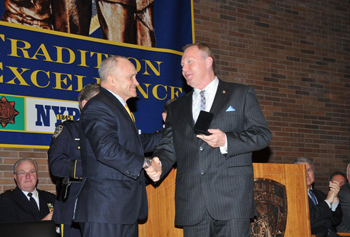 Police Commissioner Raymond W. Kelly today appointed Dr. James O'Keefe as Deputy Commissioner of Training for the New York City Police Department.

Commissioner Kelly said, "Given the essential role of the Police Academy and in-service training in the formation of our police officers, we set the highest possible standards when looking for someone to lead these programs. James O'Keefe meets every one of our standards and more."

Dr. O'Keefe began his law enforcement career as an officer with the Houston Police Department, where he served for ten years. In 1981, he returned to New York City and became Associate Director of the Office of Management and Budget in the New York City Transit Police Department. He was subsequently promoted to Director of Training for the New York City Transit Police Academy.

When the Police Department merged with the Transit Police, Dr. O'Keefe was designated as the Department's Director of Training. During his tenure as Director, he presided over the building of the joint tactical training village at the firing range in Rodman's Neck.  Dr. O'Keefe retired from the NYPD in 2001.
For the past ten years, Dr. O'Keefe has served at St. John's University as Director of the Criminal Justice Program and the Graduate Criminal Justice Leadership Program. Dr. O'Keefe has also chaired the Social Science Division and served as Associate Dean for Academic Affairs. He is the author of "Protecting the Republic: the Education and Training of American Police Officers," published in 2004.

Dr. O'Keefe holds a Bachelor of Science degree from St. John's University and a Master of Political Science and Administration and Ph.D. in Criminal Justice Administration from Sam Houston State University. 

Dr. O'Keefe succeeds Wilbur L. Chapman, who retired.
###