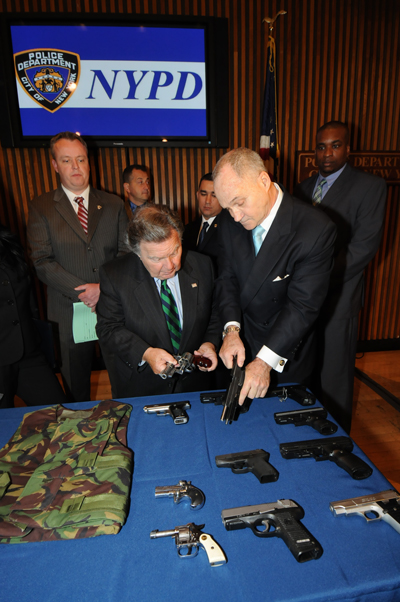 I'm joined by District Attorney Richard Brown and members of his staff, who he will introduce later. I'm also joined by Chief of Department Joseph Esposito, Chief of Organized Crime Control Bureau, Anthony Izzo, and Captain James Ryan, the Commanding Officer of the Queens Gang Squad.
This has been a bad week for drug dealers and gang members in New York City. Since early Monday police officers have arrested 140 individuals across the city as the result of four long term investigations, the largest of which was "operation zero tolerance" in Queens.
On Staten Island 30 individuals were arrested this week for narcotics distribution in the New Brighton neighborhood located in the 120 Precinct.
In the Bronx 23 blood gang members were apprehended by the Bronx Gang Squad.  The individuals arrested in the Bronx were involved in narcotics sales and violence along White Plains Road in the 47 Precinct.
In Manhattan, D.A. Cy Vance is using the drug kingpin statute to prosecute a drug delivery ring in East Harlem. 
With business cards and delivery cars they operated like a busy neighborhood dry cleaner or pizza parlor.  Except, instead of shirts and slices, these criminals were moving cocaine and cash.
In the Queens case our Gang Squad arrested 56 individuals for attempted murder, weapons possession, drugs sales and other offences.
Many of those arrested are gang members who plagued the Far Rockaway neighborhood of Queens.
What started as a narcotics investigation into a group of drug suppliers operating in Far Rockaway, led to arrests for gang related shootings and other violent crime.
The narcotics suppliers were associated with a group of individuals in Far Rockaway calling themselves Gang of Apes, or GOA.  GOA is a gang affiliated with the Bloods.
As the results of the investigation into the narcotics suppliers and the gang, we executed 16 search warrants.  Detectives confiscated 12 handguns, six kilos of cocaine; heroin and marijuana; a kilo press that is used to package cocaine; a bulletproof vest and $35,000 in cash.
Several of the suspects were arrested for violent crimes, one of them, Keron Dawkins, was arrested for the attempted murder last November of a rival gang member.
Another individual, Barkim Newsom, is charged with attempted murder of gang rivals stemming from a shooting last August.
One suspect Barry Davis was arrested for a home invasion in the 105th Precinct.  And two others were arrested in connection to a stabbing, and another for a burglary.
All four of the case takedowns this week involved drugs and associated violence that stems from drug sales and gang activity.
Each case also involved neighborhoods with thousands of law-abiding citizens.  And when some of these citizens saw the drug dealing and violence, they complained to the police, and we mounted these investigations.  And that's what will happen again if the drug dealers come back.
D.A. Brown will now discuss the charges in the Queens Gang case.
###