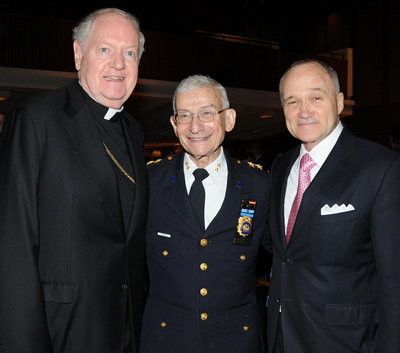 (Left to right) His Eminence Edward Cardinal Egan, Chief Chaplain Rabbi Dr. Alvin Kass and Police Commissioner Kelly celebrated 100 years of Jewish Chaplaincy in the NYPD at an event held Wednesday at Police Headquarters.
Police Commissioner Raymond W. Kelly today presided over a ceremony at One Police Plaza recognizing the centennial of Jewish chaplaincy in the New York Police Department.
"The New York City Police Department has always reflected the city it serves both in its remarkable diversity and in its embrace of freedom and religious tolerance," Commissioner Kelly said.  "It was in this spirit that the department's Jewish chaplaincy was established 100 years ago."
The NYPD Chaplains Unit was established in 1906 and included two Catholic and two Protestant ministers.  Five years later, in July 1911, Rabbi Abraham Blum was appointed as the first Jewish chaplain to counsel officers on spiritual, moral and personal matters. 
Rabbi Blum served through his death in August 1921.  His successor, Cantor Isidore Frank, was appointed as a Police Department chaplain in May 1922.  Two years later Cantor Frank founded the Shomrim Society, a fraternal group for Jewish police officers.  The society has since grown from 214 officers to more than 2,000 active and retired members.  Cantor Frank held his post for nearly 45 years, until his death at age 85 in 1966, culminating as senior chaplain.
In December 1966, Rabbi Dr. Alvin Kass was appointed as the NYPD's third Jewish Chaplain.  Police Commissioner Kelly named Rabbi Kass the department's first Chief Chaplain in 2002, a position he continues to hold.
###