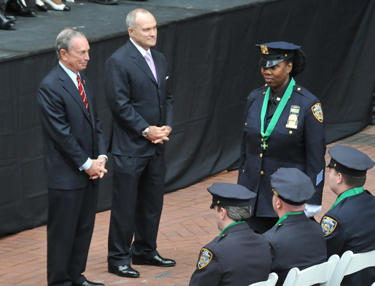 NYPD Photo: Mayor Bloomberg and Police Commissioner Kelly bestowed the Police Combat Cross on Detective Feris Jones at the Department's annual Medal Day ceremony Tuesday.
Mayor Michael R. Bloomberg and Police Commissioner Raymond W. Kelly today honored 47 members of the New York City Police Department at the 2011 Medal Day ceremony. The Mayor and Police Commissioner were joined by family members of the honorees at the ceremony at One Police Plaza.
"All of today's honorees demonstrated qualities that command our respect: personal courage, presence of mind, and an unfaltering willingness to put themselves in harm's way in order to protect others," said Mayor Bloomberg. "It is that bravery, skill and commitment that exists throughout the NYPD that has made New York the safest big city in the United States. On behalf of 8.4 million New Yorkers, let me say: thank you, and congratulations to you all on the richly deserved honors."
"I want to congratulate every command and every officer recognized today, "said Commissioner Kelly. "There is no question that you have risen above and beyond the call of duty and performed extraordinary service for the people of this city."
Among those awarded the Police Combat Cross were two Detectives who survived multiple gunshot wounds. Detective Ricardo Ramirez was seriously injured during a gun battle in the stairwell of an East New York apartment building, and Detective Robert Salerno who returned gun fire despite having being shot three times by an emotionally disturbed gunman in the Bronx. 
The Purple Shield was awarded to Detective Carlos Olmedo of the 62nd Precinct. Detective Olmedo suffered severe head, neck, and leg injuries when he was struck by a motorcycle while chasing a suspected car thief in Brooklyn.
Members of the service were presented Tuesday with Departmental honors, as follows.
Distinguished Service Medal – conferred upon the family of a member of the service who succumbed to illness associated with exceptional duty, performed with great responsibility, under unusual hazard or demand. Ten members of the service who succumbed to illnesses contracted following the rescue and recovery effort in the aftermath of the September 11th attacks received the Distinguished Service Medal:
Inspector Donald G. Feser
Lieutenant Carlos J. Ocasio
Sergeant Alex W. Baez
Detective Corey J. Diaz
Police Officer Frank M. Bolusi
Police Officer Robert C. Grossman
Police Officer Richard Jakubowsky
Police Officer Robert Oswain
Police Officer Robert A. Zane
Auto Mechanic Elmis A. Fisher
Police Combat Cross – The Department's second highest award, bestowed for extraordinary acts of heroism while engaged in personal struggle with an armed adversary under circumstances of imminent personal hazard. Thirty members of the service, including five retirees, received the Police Combat Cross:
Sergeant John Anzelino
Sergeant Monya Coats
Sergeant Daniel Munoz (ret.)
Sergeant Christopher Newsom
Sergeant Terrence O'Hara (ret.)
Detective Josue Barreto (ret.)
Detective Michael Crick (ret.)
Detective Matthew Costello
Detective Kenneth Fung
Detective William Gonzalez
Detective Feris Jones
Detective Thomas Murphy
Detective Ricardo Ramirez
Detective Daniel Rivera
Detective Robert Salerno
Police Officer Daniel Beddows
Police Officer Brian Cregan
Police Officer Edan Crespo
Police Officer Heriberto Crespo
Police Officer Derrick Edouard
Police Officer Sean Fitzpatrick
Police Officer Daniel Gallagher
Police Officer Robert Klein
Police Officer Brian MacMurray
Police Officer Daniel Robbins
Police Officer Liam Swords
Police Officer Reggie Tapia
Police Officer Robert Tejada (ret.)
Police Officer Radoslaw Terepka
Police Officer Kenneth Thompson
Medal for Valor – The Department's third highest award, granted for acts of outstanding personal bravery performed in the line of duty and at imminent personal hazard to life, under circumstances evincing disregard for personal consequence. Six members of the service received the Medal for Valor:
Police Officer Danny Acosta
Detective Raymond Clair
Police Officer Tara Hayes
Detective Patrick LaScala
Police Officer Richard Lopez
Police Officer Brian McIvor
Purple Shield – awarded to members of the service who have suffered extreme serious physical injury, permanent disfigurement, or protracted or permanent impairment of health or any bodily function. One member of the service was honored with the Purple Shield on Tuesday:
Detective Carlos Olmedo 
Unit Citations – Personnel assigned to the following commands were recognized for outstanding performance in sustaining a high level of service to the City of New York in 2010:
13 Precinct
61 Precinct
110 Precinct
123 Precinct
Housing Bureau Police Service Area #6
Transit District #2
Bomb Squad
Central Records Division
Narcotics Borough Queens
Traffic Operations District Special Events Unit
###