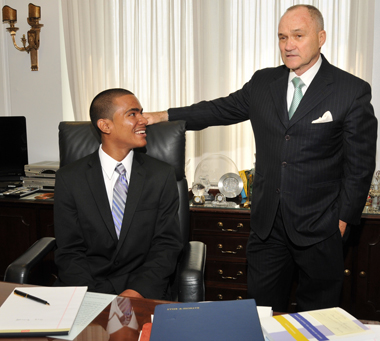 Police Commissioner Raymond W. Kelly swore in Manhattan 12th grader Gabriel Gomez as Police Commissioner for a Day on Wednesday, June 1, 2011.  Gomez won an annual essay competition organized by the Police Athletic League.

Before an official ceremony at Police Headquarters, Commissioner Kelly and Gomez held a morning meeting in the Commissioner's office, with Gomez seated at Commissioner Kelly's desk; the two later had lunch together.  The desk was once used by President Theodore Roosevelt, who from 1895 to 1897 was President of the Board of Police Commissioners in New York.

Gomez was one of dozens of New York City students who was paired with members of the Department's executive corps, borough and precinct commanders.

Gomez read his winning essay at a ceremony at Police Headquarters and joined the Police Commissioner after the ceremony to take questions from media.