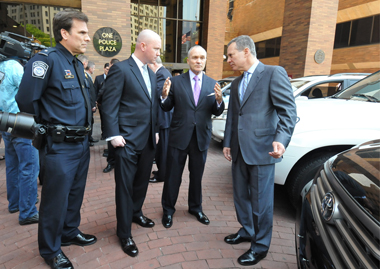 NYPD PHOTO:
(Left to right) Assistant Port Director of the Port of New York/Newark John Lava, Special Agent in Charge of Homeland Security Investigations in New York James T. Hayes, Police Commissioner Raymond W. Kelly and New York Attorney General Eric T. Schneiderman on Wednesday discuss the results of a takedown by the NYPD Auto Crime Division and Attorney General's Office of an extensive car theft ring, including luxury vehicles purchased for resale overseas. 
Criminal Network Included Toyota Dealership Employees

 Elaborate Scheme Took Black Market Orders, Used Dealership Database to Steal Hundreds of Vehicles Worth More Than $10 Million
New York City Police Commissioner Raymond W. Kelly and Attorney General Eric T. Schneiderman today announced the takedown of an extensive automobile theft and resale ring alleged to have stolen hundreds of cars worth more than $10 million.
In a series of late night and early morning raids, 18 individuals were arrested for their participation in the criminal network; 16 will be charged with enterprise corruption, a class B felony that carries mandatory prison time. The takedown was the latest development in Operation Car Wars, the joint investigation between the Attorney General's Office and the New York City Police Department.
"This car theft ring was doing a swift business selling stolen luxury vehicles. That is, until our Auto Crime Division stepped in," Police Commissioner Raymond W. Kelly said. "I want to commend the detectives who worked on this case, the Attorney General's Organized Crime Task Force and the Department of Homeland Security for their efforts shutting down this ring. Thanks to efforts like this, auto crime in New York City is down over 65% in the past decade."

"Through the diligent work of the Attorney General's Office and NYPD, we have successfully dismantled a sophisticated criminal network," Attorney General Schneiderman said. "This joint investigation provided our law enforcement offices with the added resources and man-power needed to take down the ring and hold all of its members accountable. The lesson is clear: no matter their scope, criminal operations will always be brought to justice."

James T. Hayes, Jr., special agent in charge of Homeland Security Investigations in New York, said: "Our combined efforts put an end to a criminal enterprise responsible for stealing approximately two-hundred eighty cars from the metropolitan area. Port security is a top priority for HSI, and we are poised to continue to use the Border Enforcement Security Task Force (BEST) to detect, disrupt and dismantle criminal organizations from passing illicit merchandise and contraband through our seaports."
Robert E. Perez, Director, Field Operations, Customs and Border Protection, New York Field Office, said: "Customs and Border Protection (CBP) is committed to protecting the citizens of the greater New York area and the American public from any form of illicit activity regardless of method. CBP officers are equipped with the best technology and applicable intelligence, which is a force multiplier when with combined officer experience and expertise.  The partnerships forged between CBP and other law enforcement agencies within the New York area have allowed us to focus our resources and effectively uncover criminal activity before it adversely effects our communities."

The investigation utilized wiretaps and other types of surveillance to establish how the auto theft ring functioned. According to the indictment, the crew relied on a highly developed chain of command that included a boss, "steal men," individuals who produced illegal paperwork and two Toyota dealership employees who provided critical information to manufacture counterfeit keys.

The boss would take orders placed on the black market and direct the steal men to locate Toyota and Lexus brand cars. The steal men would lift the Vehicle Information Numbers (VINs) that were then used to manufacture counterfeit keys so that the vehicles could be driven away. The cars were stripped of their identification, provided new documentation and resold. 
The indictment names the following individuals and their responsibilities:
William Cruz ("Cruz") was the operation boss who took orders from the black market and directed the steal crew to find vehicles that met the orders and carry out the thefts. 
Michael Torres ("Torres") was Cruz's lieutenant who facilitated all phases of the operation, and assumed leadership when Cruz was unable to do so.

Henry Morel ("Charlie") and Nathaniel Urena ("Nathaniel") were the 'paper men' who provided forged documents, including certificates of title, registrations, counterfeit VIN and VIN stickers. These documents concealed the vehicles' status as stolen should they ever be stopped by the police, and maintained the vehicles' optimal value for resale.
Dennis Aviles ("Aviles") who works for Plaza Acura, obtained Lexus and Toyota key codes through his brothers Joseph Aviles ("Joey") and Edward Aviles ("Eddie"), who both work at the Brooklyn-based Plaza Toyota. Once they were provided with the target-cars' VIN numbers, they searched the Toyota/Lexus database to find the corresponding key codes, which were used to cut and program counterfeit keys to steal the cars. 
Vicente Abreu ("Big Daddy"), owner of Big Daddy Hardware, and Jose Miguel Mejia-Rodriguez ("Jose Miguel") used the fraudulently obtained key codes to manufacture counterfeit keys for the steal men get into and start stolen cars without damaging the doors and steering columns.

Adam Jiminez ("Flaco"), John Acosta ("Johnny"), Edwin Mercado ("Alex"), Felix Cespedes ("Canela"), Aurelio Delossantos ("Pepe"), Jesus Gonzalez ("Joshua") and Francisco Rodriguez ("Cisco") acted as the steal men. They were responsible for carrying out the physical thefts, gaining entry into the pre-selected vehicles and driving them to predetermined "lay up" sites, such as street locations or one of several Kings and Queens county parking lots, to determine whether the cars have LoJack or any other tracking devices. The steal men also functioned as taggers, reporting the true VIN stickers to the crew for the manufacturing of counterfeit keys, and also stripping the stolen cars of their true identifying characteristics including registrations, VIN stickers and VIN plates, and replacing the originals with forged VIN stickers, plates and registrations.
In addition to reselling the stolen vehicles in New Jersey, Illinois, Pennsylvania and elsewhere in the United States, William Cruz also worked with a buyer to facilitate the international sale of six vehicles over the black market. Three of those vehicles were headed to Yemen and the other three to Afghanistan, when their ships were turned around and the stolen vehicles seized. While the final purchasers have not been identified, the buyer who did assist in trafficking the stolen vehicles has been indicted.

Each of the 16 individuals named above has been charged with enterprise corruption for the theft of 42 vehicles valued at $1.6 million, which have been located. Further evidence established the theft of 291 cars valued at more than $10 million. Enterprise corruption is a class B felony that violates Penal Law Section 460.20 (1) (a), and carries mandatory prison time of 8 1/3 to 25 years and 12 1/2 to 25 years on predicates.
Five additional individuals were apprehended and charged with theft: Anne Acosta, Edward Gomez, Edward Terrero, Jose Perez and Tayyab Mukhta. Due to their minimal roles, were not implicated in the enterprise crime charges

The investigation was conducted by NYPD Detective Guido Trivino of the NYPD Auto Crime Division, under the supervision of Lieutenant Christopher Willis and the overall supervision of Deputy Inspector Joseph Kenney and Organized Crime Control Chief Anthony Izzo. The case is being prosecuted by Assistant Deputy Attorneys General Dana A. Roth and Michael Bongiorno, under the supervision of Deputy Attorney General Peri Alyse Kadanoff.

In addition, the work of the U.S. Customs and Border Protection was also recognized: Robert E. Perez, Director, Field Operation, New York Field Office, Adele Fasano, Port Director, Port of New York/Newark, and Members of the Customs and Border Protection Outbound Enforcement Team: John Lava, Assistant Port Director, Port of New York/Newark, Supervisory Customs and Border Protection Officer Keith Wagner, Supervisory Customs and Border Protection Officer Allan Filipe, Customs and Border Protection Officer Daniel Donnellan, and Customs and Border Protection Officer James Askin.
###