FOR IMMEDIATE RELEASE
Press Release
Friday, April 29, 2011
POLICE COMMISSIONER RAYMOND W. KELLY PRESIDES OVER PROMOTION CEREMONY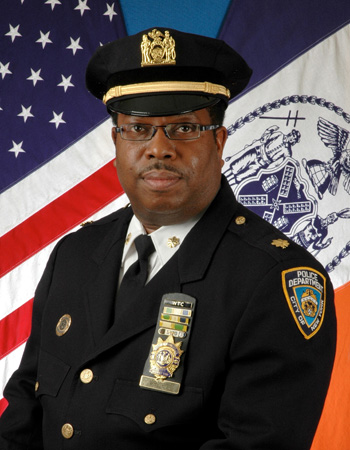 NYPD PHOTO: Samuel E. Wright was one of five Inspectors promoted Friday during a ceremony at One Police Plaza
     To recognize the outstanding efforts of members of the New York City Police Department, Police Commissioner Raymond W. Kelly today presided over promotion ceremonies of uniformed officers and civilians at One Police Plaza.
     Promoted this morning to Inspector were Matthew M. Hyland, Commanding Officer of the Organized Crime Control Bureau Investigations Unit; Lori Pollock, Commanding Officer Narcotics Borough Manhattan North; Steven F. Schreiber, Executive Officer of the Office of First Deputy Commissioner;  Scott A. Shanley, Transit Bureau Counterterrorism Coordinator at the Office of the Deputy Commissioner Counterterrorism, and Samuel E. Wright, Commanding Officer of the 73 Precinct. 
     Other promotions included five Deputy Inspectors, twelve Captains, 25 Lieutenants, six Sergeant Supervisor Detectives, and  63 Sergeants. Seventeen officers were promoted to Detective 2nd Grade.
     Additionally, 22 Police Officers were promoted to Detective.
     Civilian promotions included Principal Communications Technicians, Fingerprint technicians, School Safety Supervisors, and Agency Attorneys.
###