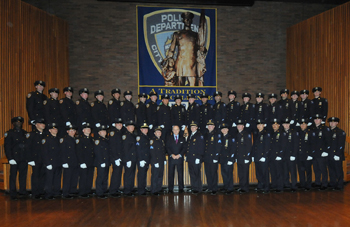 NYPD PHOTOS: (1) Police Commissioner Raymond W. Kelly, center front, presided today over a graduation ceremony for 44 new Emergency Service Unit members at Police Headquarters;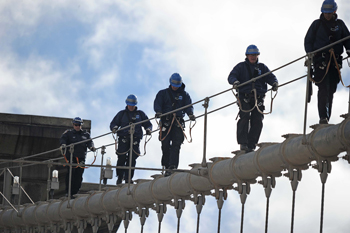 (2) ESU officers in training on the Brooklyn Bridge;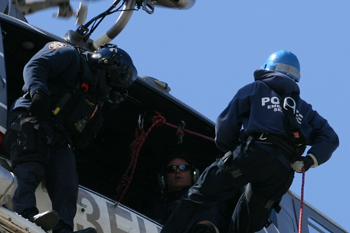 (3) Police Officer Matthew O'Grady prepares to rappel from a police helicopter during an exercise in April at Floyd Bennett Field.
The New York City Police Department today added 44 new members to its elite Emergency Service Unit, a branch of the Special Operations Division. The graduation today marks the first class of ESU officers in four years.
The class of 39 police officers, one detective, three sergeants and one lieutenant completed 27 weeks of highly specialized training, including learning to detect deadly nerve agents, rappelling from helicopters and climbing the Brooklyn Bridge. All officers in the Emergency Service Unit are certified Emergency Medical Technicians and SCUBA specialists.
Speaking at Tuesday's graduation ceremony, Commissioner Kelly said: "You take your place among a legendary team of first responders who have set the standard for police departments across the country, a team that is unmatched when it comes to providing life-saving assistance to the public and critical support for the police officers on patrol."
After the January 2010 Haiti earthquake, 38 members of ESU flew to Port-au-Prince with the FEMA-deployed New York Task Force 1 and freed six survivors from the rubble of collapsed buildings. Members of ESU also responded to Hurricane Katrina in 2005.
ESU officers respond to approximately 148,000 jobs each year, including barricaded suspects, emotionally disturbed persons, construction accidents and any dangerous conditions in the City. This March, they helped to pull 17 passengers of a fatal bus accident on Interstate 95 to safety, using their tools to cut through the roof of the bus and remove seats to reach them. In February, the NYPD Aviation Unit and ESU officers rescued two U.S. Army Cadets stranded on a mountain ledge near West Point, in gale-force winds in the middle of the night.
Related video: http://www.youtube.com/watch?v=21gTVBYFvEM
###