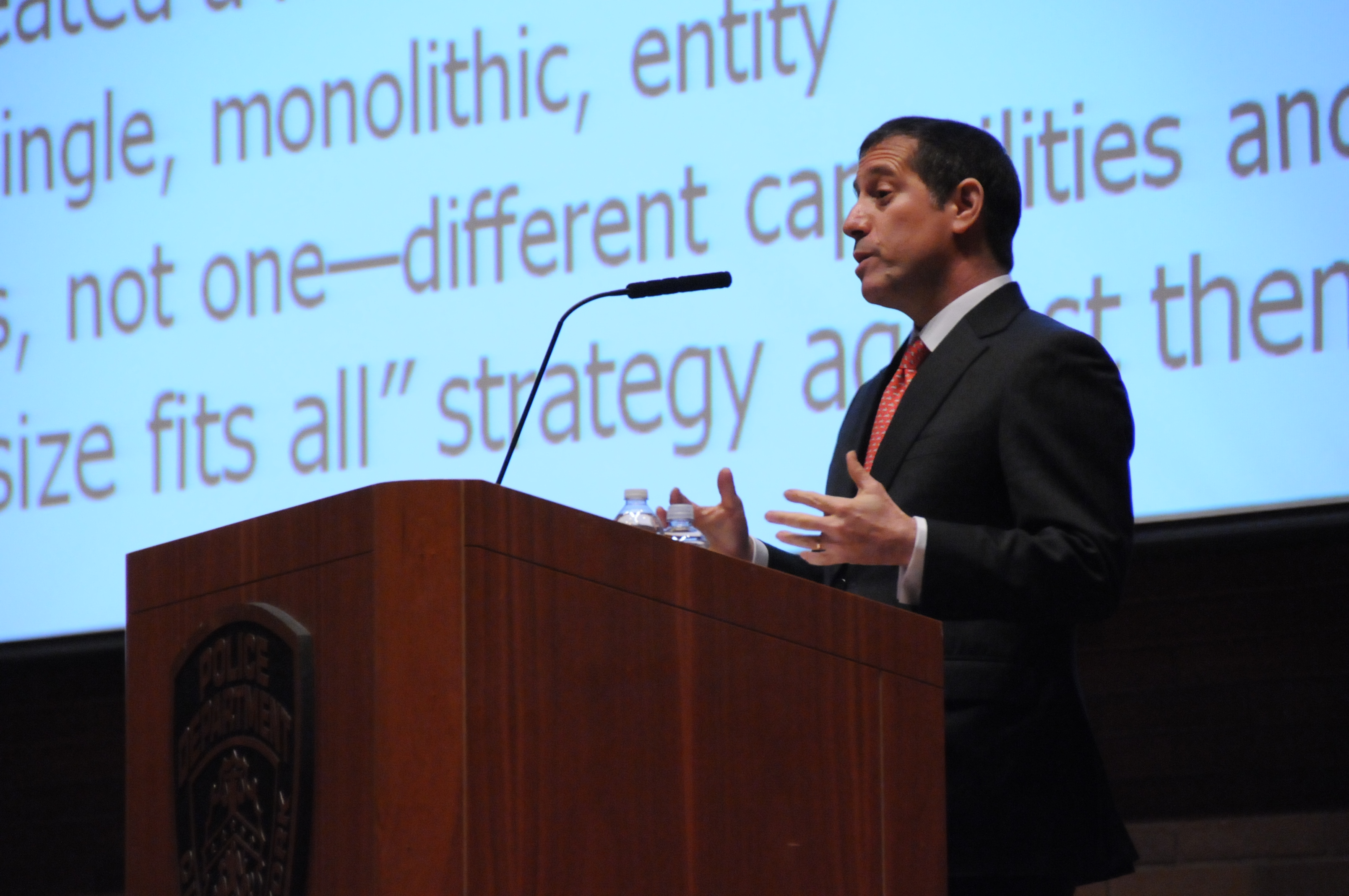 Georgetown University Professor Bruce Hoffman addresses a gathering of Jewish community leaders at the NYPD's annual Pre-Passover briefing held Wednesday at Police Headquarters.
Police Commissioner Raymond W. Kelly on Wednesday presided over the NYPD's annual pre-Passover briefing held at Police Headquarters, which drew approximately 300 religious leaders, Jewish community representatives and members of the service in preparation for the upcoming Passover season.
This year's pre-Passover briefing featured a presentation by Georgetown University Professor Bruce Hoffman, a leading terrorism expert, who discussed "Al Qaeda's Strategy of Attrition" and the group's planning in Europe, the Middle East and the United States.
The conference included a discussion of security preparations that police will take around the city's synagogues and in Jewish neighborhoods for the eight days of Passover, beginning Monday, April 18 at sunset.  The briefing also provided attendees with a summary of the NYPD's crime-fighting and counter-terrorism programs.
"As a department we are committed to strengthening our partnerships with the communities we serve," Commissioner Kelly said. "Once again, we'll be relying on those partnerships to help protect the city during Passover."
Next week the NYPD will deploy extra resources to precincts with large Jewish communities and add foot posts, Houses of Worship patrol vehicles, outreach by community affairs officers and increased anti-crime units to deter theft.  Additionally, some locations will be visited by Hercules teams consisting of heavily armed officers, whose function is to deter terrorists.
###