Police Commissioner Raymond W. Kelly today presented the NYPD's Theodore Roosevelt Award to six members of the service who overcame grave illness and extensive treatment to return to their duties in the New York City Police Department.

The recipients of the award, in its fifth year of being bestowed, include officers who underwent kidney and bone marrow transplants and who endured late-stage cancers of the prostate, skin, colon and brain.

Commissioner Kelly said: "All of the award winners we recognize tonight have themselves lived up to incredibly high standards. They have faced life-threatening illnesses with courage and resilience, qualities prized by Theodore Roosevelt, who was Police Commissioner, Assistant Secretary of the Navy, Governor of New York, and ultimately, President. They have overcome obstacles with remarkable determination."

This year's recipients are:
---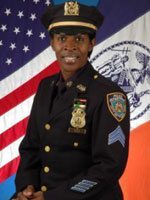 Sergeant Nicole Dean underwent a kidney transplant in 2009 after receiving donor organs from her one of her three sons. She returned to work in seven months and managed to complete a Bachelor of Science degree at John Jay College while battling her disease and recovering from her surgery. Sergeant Dean is an instructor in the Leadership Development Section and has served the Department for 23 years.


---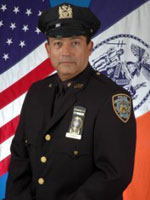 Detective Nelson Dones is a 30-year veteran of the Department who was diagnosed in 2000 with stage IV lymphoma, which had spread from his lymph nodes to his bone marrow, but was able to receive a transplant from his brother. He overcame his illness and after extensive rehabilitation, returned to full duty in 2005 as a Field Training Officer for new members of the Transit Manhattan Task Force, where he is assigned.


---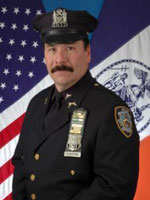 Police Officer Ronald Geoffrion overcame an incurable bleeding disorder in 1994 only to be diagnosed with prostate cancer 10 years later. After aggressive treatment and surgery to remove a tumor on his bladder, he refused to take sick leave. A Type II diabetic, Officer Geoffrion continues to perform his duties on the Outdoor Range as a member of the Firearms and Tactics Section. He has spent 23 years with the Police Department.


---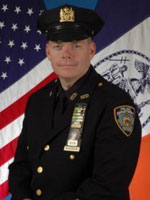 Detective Keith McLaughlin was diagnosed with stage IV melanoma in 2007 and began a series of rigorous treatments, surgery and radiation, to remove tumors that had spread throughout his body. He endured weeks of intensive physical therapy to regain the use of his right arm and hand which had been damaged during surgery. He returned to full duty this year as a member of the Police Commissioner's Security Detail. Detective McLaughlin is a 19-year veteran of the Department.


---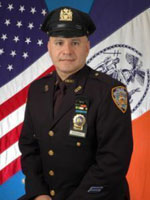 Detective Hugo Navarro left undercover work in the Narcotics Division after being diagnosed with Stage III colorectal cancer in 2007. After extensive treatment and surgery, he was informed that additional cancer in his lymph nodes was inoperable, but after high-dose radiation worked, Detective Navarro was able to return to full duty last year. While no longer working undercover himself, he continues to be a mentor and trainer of new undercover officers. Detective Navarro has been with the Department for 10 years.


---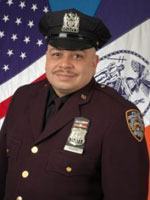 Police Officer Eric Rivera served ten years with the U.S. Marine Corps and was being treated for injuries sustained while on bicycle patrol in 2006 when a CAT scan revealed a large brain tumor, of which surgeons were able to remove only 60%. After returning to work in 2008, Officer Rivera was again diagnosed with cancer but received treatment and returned to work last March, as the 10th Precinct's Assistant Field Intelligence Officer. He has eight years of service with the NYPD.
---
Theodore Roosevelt was the President of the New York City Police Commission from 1895 to 1897. He persevered physical challenges brought on by a debilitating heart condition and childhood asthma, and rose in influence and prominence throughout his lifetime, which is most often remembered for his United States Presidency from 1901 to 1909. Roosevelt also served as Assistant Secretary of the Navy and Governor of New York. The Department has bestowed awards in his name since 2005.

###